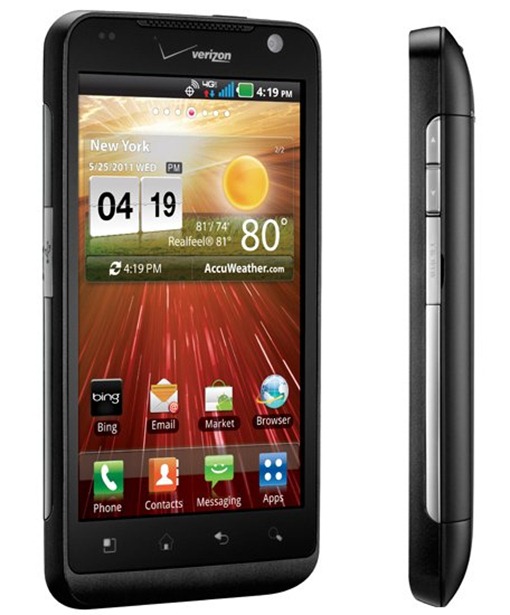 Verizon is marketing their new ultra-modern 4G LTE network like there's no tomorrow, and most of their new stock of smartphones have support for it. In theory, 4G LTE speeds are supposed to be in the medium and high double digit range, but in practice, things aren't anywhere near that good. The first 4G LTE phones are at most a bit faster than older 4G or even 3G phones under normal circumstances – if you're in the center of a city, near a cell tower, things are different, of course.
Not much of a revolution, though it has a nice screen
One of the latest offers from Verizon is the LG Revolution, which is nothing like the name suggests, and should instead be called the LG Midrange :-). Seriously, even Verizon themselves have better phones, especially for the price. But, if you really want a 4G LTE handset for everyday use, the Revolution might not be that bad.
On the outside, the LG Revolution looks like just about any other Android smartphone on the market: a typical big rectangle slab with a touch screen and four capacitive navigation buttons on the front. On the back, there's a nice looking sheet of aluminum in the middle of the cover, which looks nice and houses the camera at the top end, but it doesn't have any functional value (a kickstand would've been nice).
The phone is actually pretty thick – with the current trend being 11 mm or less, the 13 mm in the Revolution sure do stand out, and combined with the big overall size, it doesn't make for such a good handling experience. I think the thickness is a result of the 4G LTE radio, but there are other LTE phones that are thinner. The screen is very nice, typical of LG – it's a big 4.3 inches unit with a resolution of 480×800 and it can display 16 million colors at almost perfect angles – you won't have any problems seeing what's on screen.
Average internal hardware, enough storage space
The internal hardware is where the mediocrity and disappointment comes in – being such a think phone with a loud name, you'd expect it to have something powerful inside, right? Instead, you get a second generation Snapdragon running at 1 GHz, which is about equal to Samsung's old Hummingbird and its new Adreno 205 GPU is actually slower in games than the PowerVR SGX graphics adapter. It's most definitely enough for any day to day tasks, especially with the 512 MB of RAM, but I don't think the first thing that comes to mind when looking at it is "Revolution(ary)".
At least there are no issues with the other specs, starting with the storage space: there are 16 GB of inbuilt Flash memory and a micro SD card slot for an additional 32 or even 64 GB in the future. Wifi N, Bluetooth 3.0, HDMI, DLNA, a 3.5 mm audio out jack – everything is there to maximize the phone's potential. The camera is a good 5 megapixels unit with LED flash, and there's a 1.3 megapixels one on the front for video calls.
Android 2.2 and 4G LTE support doesn't make it any more desirable
The LG Revolution will come with Android 2.2 pre-installed, and an upgrade to 2.3 will be available in the future. LG of course, used their custom skin on top of the OS, so people's opinion may be polarized on this, but fortunately, you can always change it by installing a different launcher for the home screen.
At $249 with a contract, the LG Revolution isn't much of a good purchase from Verizon, which has some much more attractive offers for the price. Of course, 12 mbps and 5 mbps download and upload speeds is great, but I bet most people will never achieve them nor need them – a good 6/1 Mbps 3G/4G connection is more than enough, and it's definitely more widespread. This phone is for those who have good LTE coverage and will use it to its full extent; otherwise you're better off with a faster and cheaper 4G smartphone.