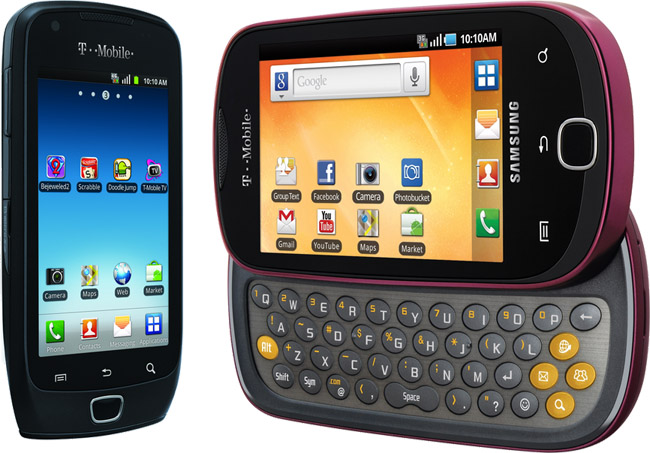 T-Mobile has one of the best collection of smartphones for the Android enthusiast, but of course, they need to expand their sales and what better niche to target than budget smartphones for those who don't want to pay more than a hundred dollars for one, yet still want to have the latest and greatest in mobile devices to impress their friends and family and have something to do their work on when they're on the move.
With that in mind, T-Mobile partnered with Samsung and has released the Gravity Smart and Exhibit 4G smartphone duo, which will provide excellent performance and entertainment on the go for less than $100 (with a mail-in rebate and a contract; the exact prices haven't been announced yet, but I think they'll be lower than $80, actually). T-Mobile is positioning these two phones as "family-friendly", i.e. meant to help families switch to smartphones without spending too much money.
The Exhibit 4G is a pretty nice modern all-touch smartphone
The Samsung Exhibit 4G is a pretty typical all touch smartphone with a 3.7 inch AMOLED display and 800×480 resolution, which is very good for the price. There are three Android touch navigation buttons just below the screen and surprise, an optical D-pad/touchpad for easier operation (a lot of people will love it). The phone looks and feels very nice – it definitely seems more expensive than it is. One interesting thing that it can do is sit in an upright position thanks to its flattened bottom – perfect for putting it on your office desk or at home as a clock (I bet that's what Samsung intended with the design)!
The Exhibit 4G is pretty powerful on the inside, as well: it uses Samsung's 1 GHz Hummingbird processor, the same one used in the Galaxy S, with the PowerVR SGX 540 graphics adapter. This should provide more than enough speed for any task – it can even play Full HD videos, run the latest games and is faster than most first generation Snapdragon-powered smartphones out there, like the Droid X, Evo 3G and more. The phone also has 4G support (up to 21 Mbit/s download speed).
The Gravity is behind in hardware and software, but has a keyboard and is cheaper
The Gravity Smart is the first smartphone in Samsung's Gravity series, and is optimized for texting. As such, it has a slide out QWERTY keyboard with special function keys for quick access to your contacts, messaging, internet and search, a smaller 3.2 inch display and a less powerful 800 MHz processor inside the housing. It also is thicker and has a less unique design – it's round shaped, like a pebble. It still looks pretty nice, and is a great replacement for the Sidekick 4G if you can't afford it. Another difference between the Gravity Smart and Exhibit is that the former has no 4G support, instead being limited to "only" 7.2 Mbps download speed (still good enough for any tasks).
Both phones have a 3 megapixels camera on the back, although only the Exhibit 4G has a VGA camera on the front for video calls. Lastly, the Exhibit ships with Android 2.3 Gingerbread out of the box, while the Gravity Smart is content with 2.2 Froyo, which is good enough, but I hope Samsung releases an update soon.
Other than that, the phones are pretty good for budget and family friendly devices, and if you're switching to a smartphone or buying one for your children/parents/grandparents, either of them would make a great choice.