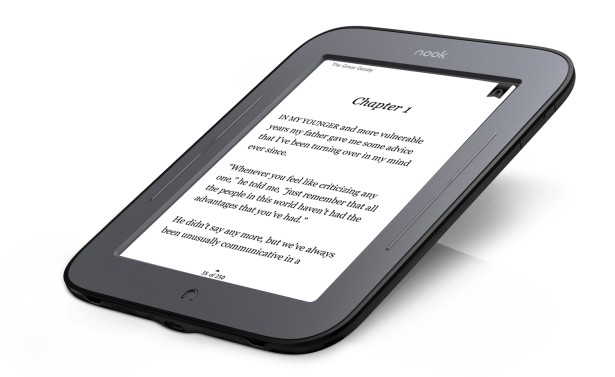 Just over half a year ago, Barnes & Noble announced the Nook Color, which propelled them further into the world of digital media, and soon after followed their own apps store for it. The Nook Color is a pretty interesting device, and it has certainly found its users in the relatively narrow niche of electronic book readers, thanks to it being so much more – it has a great build quality, runs Android (albeit its pretty limited unless you root it), has the specs of a mid-range smartphone and a beautiful IPS display, which, coupled with a very low price, makes for an excellent device to purchase.
And now, Barnes & Noble released another e-reader, the All-New Nook – yes, that's the full name, not just a moniker used for marketing purposes, and the device is so different from its predecessor that it really fits, though I think a different name would've been better. The All-New Nook is basically a smaller version of the Nook Color, with a new design and a stripped down hardware part, targeting a more focused market – that of "true" electronic readers.
First of all, the biggest change you'll notice is the design – the All New Nook is smaller, rounder and less unique looking. It has a very thin profile at only 0.47 inches and is made out of rubbery plastic, which is pretty durable and helps reduce its weight even further down to only 7.48 ounces – now that's light!
To prove that Barnes & Noble isn't messing around when they tout the new Nook as the best e-reader available, the device has a very nice 6 inch Pearl E-Ink touch screen that has a 50% higher contrast ratio than the original Nook Color and is one of the best E-ink displays on the market, with a very paper-like picture and an extremely fast refresh rate, which means no more flickering when flipping through pages! Obviously, the display is very easy on the eyes and can be read even in full sun without issues – it looks just like paper!
On the front frame, you have the n button that takes you to the home screen and 4 well-disguised buttons on both sides of the screen, which appear to be just part of the design at first. You can use these to navigate through pages and chapters, and they are fully customizable if you don't like the default control layout. On the bottom side, there's a micro USB port for charging, and on the side you have a micro SD card slot that will let you store thousands of books on your device. Of course, the All New Nook has a Wifi adapter, which is the device's main link to the outside world and the Barnes & Noble book store.
Just like the original Nook and despite the 16 levels of gray screen, the All New Nook runs Android and should be able to run all the apps on the Nook App Store (which reached over 1,000,000 downloads in the first week, by the way), however, Barnes & noble seems to have disabled this feature, along with the browser, which can be accessed by typing the URL in the search bar, but which seems to lack essential packages – most of the websites display wrong.
But the All New Nook wasn't designed for that – it was made specifically for reading eBooks, digital newspapers and magazines and it is simply excellent at that. The price has also been adjusted accordingly, with a new unit costing only $139. If you need a great e-reader for a good price and you don't like the Kindle or its screen, there's really no other better alternative.