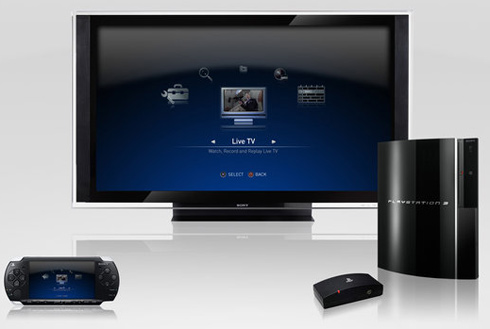 Just over a week ago, Sony has amazed everyone twice – first, of course, with the official announcement of the Sony PlayStation Vita – the next generation of PS Portables that truly deserves the moniker. And the second time was when they unveiled the new PlayStation TV – a real step forward for console gaming and 3D television sets in general.
The PlayStation TV looks just about how your average person would imagine it – with a glossy piano black finish and rounded edges, reminiscing of the PlayStation 3 and of course, the PlayStation Portable and Go – Sony really did a great job at creating a universal design for the PlayStation branded devices.
The TV has a 24 inch LED backlit display that should provide a great color fidelity and good contrast/brightness levels, and the Full HD resolution means that you'll be able to use it as a gaming screen, computer monitor and of course, a TV, even though it is a bit on the small size.
The main attraction of Sony's new PSTV is of course, its 3D capabilities. If you haven't heard about this already, you'll be very surprised. The 3D mode on this thing works just like the ones on most other TVs – you put on the special glasses and the TV works with them in tandem to give each one of your eyes a slightly different picture, so that the 3D effect can be created. What's special about the PSTV is that it can provide two different 3D pictures to two or more different viewers… at the same time!
Sony calls it the "quad speed frame sequential display technology", which in laymen's term means that the display outputs four times as many frames per second than a simple TV or twice as many as a 3D TV, which can be used to provide different frames to different viewers by timing the glasses accordingly. It's pretty innovative, and I hope they will release bigger TVs with this technology, as that would be simply awesome.
If you still haven't figured it out, you can use this technology to play a two player game on the same screen without having to sacrifice half of it to the other player. You'll also have the benefit of players not being able to see what others are doing (though it's actually easy to do it if you want to cheat – you just press a button on the controller). Technically, the PSTV should allow up to 4 players, but only in 2D mode, which is still amazing – though Sony hasn't confirmed this.
A bigger TV with this technology would be great in the living room – your family could be watching different things on the same display without fighting for the remote. Of course, you'd have to use headphones for the different outputs, as well.
The PlayStation TV will be available this fall, starting at $499, which is quite cheap for the package – you get the TV itself, a pair of 3D glasses (which alone would cost $70), a 6 feet long HDMI cable and a copy of Resistance 3 for your PS3. If you've been waiting for that special TV for your home gaming rig, this might be it!