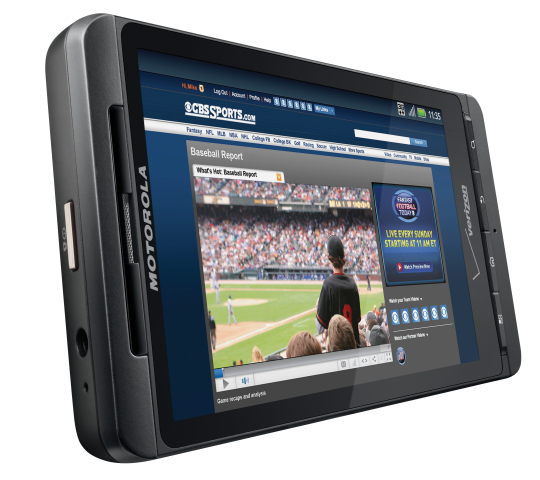 Overview
While the basic Droid X phone designed by Motorola has received a great deal of positive reviews, the new version benefits from the increased processing power provided by the dual core technology. The exterior design of Motorola Droid X2 is virtually unchanged from its previous version, as it is still the same slick and thin framework you have grown accustomed to. On the other hand, the Droid X2 now comes equipped with a powerful 8 MP camera and a double LED flash. As far as connectivity is concerned, the X2 is still a 3G phone, though loyal customers were expecting this model to be part of the 4G revolution. While the lack of LTE connectivity can be quite a letdown, this 200-dollar android phone more than makes up for it with its other features.
Specifications: A quick look at its main features
• Display of 4.3 inches with HDMI output capable of 1080p playback resolution;
• 8 megapixels camera with 720p video recording capabilities;
• Enables connecting to Verizon Wireless 3G Networks via designated hotspots;
• Access to your personal email as well as clouds networks;
• Can be used intensively for approximately 8h and also provides a standby of 220h via the powerful Li-Ion Accumulator;
• Medium sized 8GB memory card with the possibility of upgrading it to 32GB;
• Several applications handled by the Android 2.2 operating system.
What we like
Definitely one of the best features of the Droid X2, the Tegra 2 dual core processor is able to deliver access to both online and offline applications much faster than similar gadgets and almost twice as fast as its Droid X predecessor. Moreover, thanks to the advanced processor, the data transfer time is significantly decreased and even complex websites can be accessed in no time at all. In addition, the Motorola Droid X2 comes with a preinstalled Skype application, enabling you to make cheaper calls from the designated Verizon Hotspots.
The battery life of this smartphone is another great advantage, especially if you keep in mind that it is still a 3G phone with a dual core processor. The intensive testing it has been subjected to has shown quite good performance, even when the device is used for tedious tasks. In addition, the benchmarking has shown pretty impressive results compared to similarly priced devices. As far as the display is concerned, the Droid X2 is capable of rendering 960×540 resolution in an astounding 24-bit depth. At the same time, the Motorola Droid X2 comes with the innovative SWYPE system, which enables users to increase their typing speed dramatically.
What we don't like
For one thing, not all customers are comfortable with the bulged shape of the Droid X2 framework, as it can be a bit uncomfortable when stuffed into tight pants. On the other hand, bulge is only located in the upper part of the smartphone and the rest of the framework is rather thin and sleek. In addition, the lack of LTE connectivity has proven a bit disappointing, as 4G connections have grown quite a bit in popularity over the last years.
Reputation
The Motorola Droid X2 is the kind of gadget for customers who require a lot of processing power and a long battery life. While it has several entertainment-related applications, the Droid X2 seems to be the smartphone of choice for business purposes.
In a nutshell
Droid X2 offers a great number of improvements from its predecessors, even though it is not compatible with LTE networking. If you are looking for a powerful smartphone with a sleek design and quality craftsmanship, then the Motorola Droid X2 is definitely a good choice.