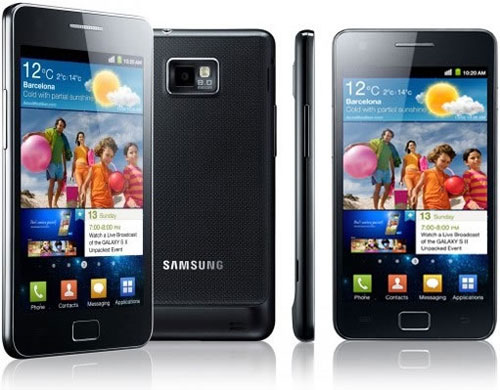 Overview
First of all, the Samsung Galaxy S2 has been considered literally the best Android smartphone on the market, due to the absolutely amazing design and top notch technology. The reason is quite simple: there is no device out there that can match with the class-leading speed and responsiveness of the Galaxy S2. Due to its relative small size of 4.3 inches, it is often compared with the famous HTC Sensation Android. While Sensation wins on camera and display features easily, the truth is that it is unable to run 1080p flash video unlike the S2 that incorporates an awesome super AMOLED plus screen technology.
Specifications: A quick look at its main features
• AMOLED plus screen technology that enables the user to run high quality 1080p flash videos;
• 540 by 960 pixel resolution for high quality 800×480 pictures display;
• It is equipped with an incredible 1.2GHz ARMv7 dual core processor;
• Includes power management and power saving features that enable the device go in idle mode when the processor uses less than 200 MHz;
• Powerful audio system with high quality earpieces that can isolate environmental noises quite well;
• It comes with a 8 megapixel rear camera and a 2 megapixel front cameras and an easy to use control of the LED flash;
• Sleek design and an incredibly user-friendly interface.
What we like
If you will ever want to test out the capabilities of the Samsung Galaxy S2, then you will simply fall in love with its speed and responsiveness. Those features are absolutely exemplary and in fact, this is the main reason why this Android is considered the best of the best. Moreover, its powerful browser enables the users to get incredible frame rates that are consistent and high on various websites and videos. One thing that you will love about the Galaxy S2 is the fact that, thanks to the TouchWiz 4.0 it permits interface customization. Furthermore, you will be completely satisfied with the onscreen keyboard.
What we don't like
Even though overall this seems to be the top smartphone available on the market, it seems that customers have been expecting more. Sure, it has a 4.3-inch screen and an incredibly powerful processor. However, that does not suit everyone's needs. Besides the fact that the build quality could have been better, another downfall is the rather high price. The good news is that you do not necessarily need to make a contract with a phone company, while the bad news is that it costs around 500 pounds.
Reputation
As stated previously, the Samsung Galaxy S2 is considered one of the best handsets on the market. Overall, on a scale of 1 to 10, where one is very poor and 10 is high quality, this Android easily gets a 9. While there are certain debates regarding the fact that the manufacturer should have added more effort in designing the display, the truth is that it has enough advantages to compensate for that.
In a nutshell
All in all, this device is simply wonderful, as it is the fastest thing you can get. It is lag free regardless of whether you are browsing websites or scrolling through the smartphone's menu. It includes the largest screen for this kind of devices and it allows you to type in messages and text with no difficulty. Even though it is quite pricey, the truth is that most reviews recommend the Samsung Galaxy S2 as a very clear first choice. The truth is that the price is completely justified. However, keep in mind that nobody can predict if such an investment is wise, as technology evolves extremely fast nowadays.