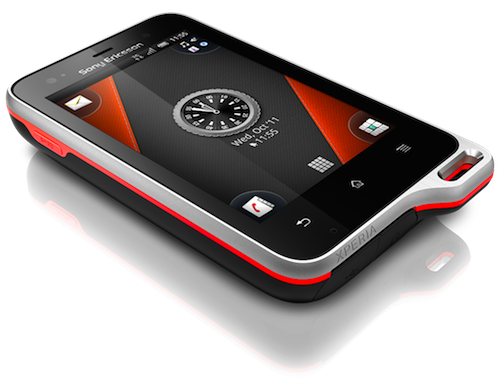 The rugged phones market has seen a lot of good models in its time, although lately with the whole smartphone craze manufacturers seem to have forgotten about people with an active lifestyle and phones that can withstand water the shocks and other physical abuse.
However, just recently Motorola announced the first rugged smartphone, the Defy, which could both withstand said physical abuse and run any apps without issues. It gained quite a following, which is unsurprising since it was the only model on the market and people had no other choice. But now they do, as Sony Ericsson also decided to enter this niche, and their counter offer looks just as good, if not better – their active lifestyle rugged smartphone is the Xperia Active.
The name is really spot on, but what matters is the hardware (the software part is taken care of by Android). And the Xperia Active delivers – it will be the most durable Android smartphone when it comes out. The phone is rated as dust proof, scratch proof, shock proof up to several feet, but the most interesting fact is that it can withstand water pressure up to three feet for at least 30 minutes – all while being perfectly functional – now there's a phone for all of you snorkeling enthusiasts! And it's not just hype, either, there's already a video on Youtube demonstrating said capability.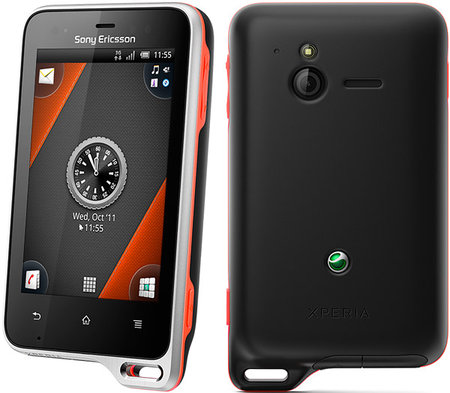 The Xperia Active actually looks more like an accessory than a smartphone, with a more square housing and the noticeable strap holder, which is practically a part of the body itself, so it will be impossible to break without ripping the phone apart –this thing is just like a Kensington port on laptops. There is a 3 inch touch screen on the front, with a resolution of 320×480 pixels and 16 million colors, which has a digitizer that works even when it's wet (unlike most other smartphones). On the back, there's a full 5 megapixels camera that can shoot 720p videos, even while submerged under water (perfect for filming fish :-), and it has an LED flash that was specifically designed to work as a video light (of course, dual LEDs were always capable of that, but this one is official).
Sony has also equipped the phone with a compass (obviously) and barometer, as well as specialized apps like Personal Trainer, Pulse Watch and Pedometer to further entice people to buy it (although there are similar and probably better apps on the market). Of course, the Active runs Android 2.3 Gingerbread, offering its full capabilities with all the third party apps on the market, and Sony's custom user interface, dubbed Timescape, which looks pretty good actually.
High performance is practically ensured by the 1 GHz snapdragon processor that can run any kind of apps and will be able to for at least a couple of years to come. Along with it, there are 512 MB of RAM for the best performance (especially in multitasking) and 1 GB of ROM for all your apps, although any other files will have to fit on your own micro SD card. There's also all the other hardware features you can think of, from Wifi to DLNA, and the 1200 mAh battery can hold up to 6 hours in talk time – pretty average, but still good considering the cramped battery bay of this Xperia.
The Xperia Active will be available this summer, and Sony Ericsson have already started their advertising campaigns on TV and online, so it should be here soon. Depending on the cost, this could be a better choice overall than the Motorola Defy, although if you want the ultimate ruggedness in a smartphone, the Xperia Active is the best choice.