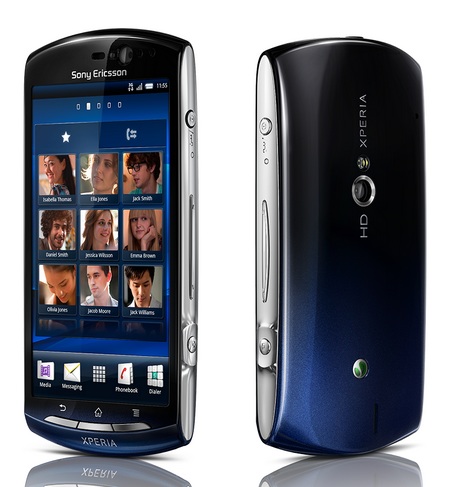 Sony Ericsson's Xperia line of smartphones has been steadily growing in size and quality ever since the first Windows Mobile-based devices started shipping. Nowadays, Sony is using Android as the operating system of choice, and it's unclear whether they'll ever switch back to Windows.
One of the latest devices to be released in the series is the Xperia Neo, which is basically a keyboardless variant of the Xperia Pro, and a pretty good phone for those who want something that works well and looks better than your usual run off the mill slab phone. It will also be reasonably priced, which is a great move from Sony, which are known for selling their products at a pretty high markup.
The hardware specs are nothing unusual – they're actually pretty modest by today's standards with the Neo having a second generation Snapdragon under the hood running at 1 GHz and 512 MB of RAM to help it run all the apps you may need. It is definitely more than enough for everyday apps and almost any games you'll find on the Android Market, although if you need to do some heavy multitasking or run a video editing application for example, the phone might get a bit slow at times.
But the processing power is not the Xperia Neo's main feature – it is its stylish design that sets it apart from all the other single core smartphones on the market. The curvy housing and shiny colors sure stand out and make the Xperia look more than just another smartphone. There will be two different color options for the phone, and sadly you can only choose one of them – replaceable panels like on the old phones would've been nice in this case, as both the silver, blue and red Neos look very nice. Thanks to the curved back, the Xperia Neo sits very well in your hand and doesn't feel thick at all even though it's 13 mm.
The nice 3.7 inch display on the front has a resolution of 854×480 pixels and comes with Sony's proprietary Mobile Bravia engine, which improves the color reproduction, giving you a more vivid and bright picture – it's definitely a great addition to the phone. Then there's also the 8.1 megapixels Exmor R camera, which is ultra-sensitive to light, meaning it can take pictures and video under low light conditions better than pretty much any other smartphone camera on the market – that's definitely good, since integrated cameras are well known for their inability to take good shots in the dark.
Of course, the video capabilities are completed by a front-facing 0.3 megapixels camera for video calls and a HDMI port at the top that lets you output HD video to your TV set, recorder, computer or any other receiver.
The Xperia Neo will come with Android 2.3 pre-installed, which is a great thing since it is the latest and pretty much the best OS for smartphones, with Ice Cream Sandwich coming further down the line. Sony Ericsson also used their own Timescape user interface, which looks pretty nice, although it's not that much better than Android's own UI. You'll certainly have no problems with the OS itself, and the over 200,000 apps on the marketplace are sure to provide any kind of features you may need.
The Sony Ericsson Xperia Neo will be available by the end of summer worldwide, and it will definitely make for a great handset for those who want style and functionality in their pockets.