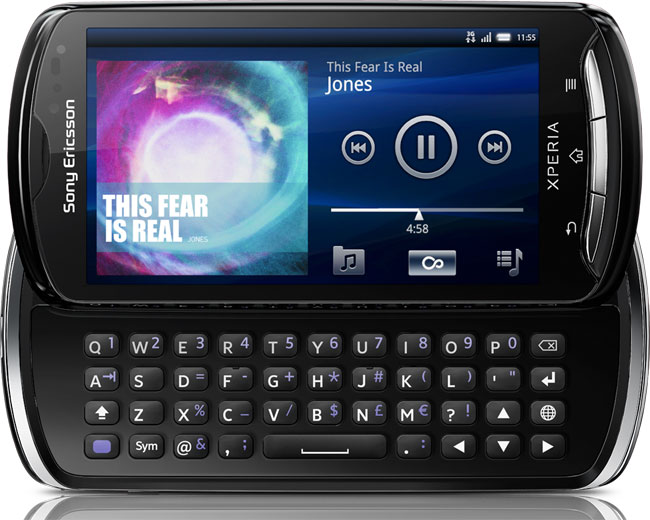 Sony Ericsson is expanding their Xperia line of smartphones and has already announced and released more devices this year than ever before. Among the various models, ranging from high end fashion icons to mid-range everyday phones with a unique style you can also find the Xperia Pro – one of the few confirmed Android Gingerbread smartphones with a full physical landscape QWERTY keyboard.
The Xperia Pro is very similar to the Xperia Neo, which is also set for release this quarter. In fact, you won't really be able to tell them apart from a quick look, and only the added thickness and a few minor design differences gives the Pro away. That's a good thing, since the Xperia Pro is one of the better looking QWERTY enabled phones out there, with a unique style that you'll recognize right away. It has the same curved lines as other Sony products, including the PSP, with an unmistakable design of the front button row and back cover.
The screen is a pretty nice and well sized 3.7 inch unit with a resolution of 854×480 pixels, which you may have recognized as the same one used on previous Motorola flagships – although in this case it is unknown who actually manufactures them, Samsung or Sony. Either way, the quality is well above average, mostly thanks to Sony's proprietary Mobile Bravia engine – a software solution that enhances the colors and contrast for a much more vivid picture.
The performance should be adequate thanks to the second generation Snapdragon, the same chip found in the Xperia Arc and Neo, running at 1 GHz and sporting a new Adreno graphics solution, although it will definitely not be a benchmark champion or allow you to edit HD videos on the go – it's just not designed for that. There are 512 MB of RAM onboard to help the processor in its tasks, and it should be more than enough for multitasking and any kind of memory-intensive apps.
The storage space is practically non-existent onboard – all you get is 320 MB of useable space for storing all your apps. You'll have to use a micro SD card to store all your other information, but the good news is that 16 and 32 GB cards are practically dirt cheap these days, with 64 GB models coming later this year, so there will definitely be no issues in this regard in the future.
The Xperia Pro also features the highest quality camera on any QWERTY phone – typically, models with an external hardware keyboard are more business-oriented, and the camera is an afterthought, but Sony has used their most advanced 8 megapixels Exmor R unit here, which is very sensitive and can catch more light than any other sensors on the market, giving it the ability to take great shots and videos in good light conditions and pretty good photos in the dark, as well – this is really one of the best phones if you plan on using it as a camera replacement. You also get a front facing VGA camera for video calls and the ability to output video to any external device using the integrated HDMI port, which supports HD output but unfortunately will not support mirroring – the hardware is not powerful enough for that.
There's really nothing to complain about in the software department – with Android 2.3 Gingerbread running you get access to hundreds of thousands of apps on the marketplace and can use them to accomplish almost anything you can think of – if you're a first time Android or even smartphone owner, you'll be amazed at what this OS can do.
The Xperia Pro is not yet on sale, but will be coming in the third quarter of this year, which is a bit late in my opinion, especially when there are other better and faster devices on the market already. But when it does get released, it will be a great purchase for those who don't want to give up hardware keyboards just yet.