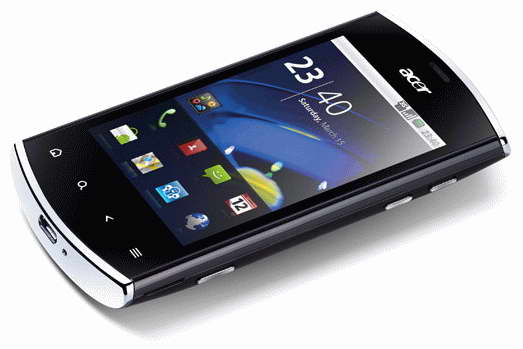 Acer doesn't have a huge arsenal of smartphones (not yet, anyway), but the few they do release are always high quality, both in build, internal hardware specs and software. The Liquid brand name has been around for almost two years now, and should be relatively well known for a lot of people, as it designates Acer's line of Android smartphones.
One of the latest additions to the group is the Acer Liquid Mini – a very nice looking compact phone that easily stands out from the rest of the crowd with its beautiful lines and colorful finish – in fact, the exterior design makes it seem like it is the perfected version of the Liquid Metal, another compact handset from Acer. It's definitely not a smartphone for advanced users or those who want to have the latest and greatest, but it's a perfect device for those who are switching to Android or just want to have a small, usable and attractive phone for everyday use.
The display is a relatively small 3.2 inches unit with a resolution of 320×480 – in my opinion, that is the bare minimum for a modern phone, as the comfort of surfing through Web pages and watching any video is at the outer limit – not as good as a 4 or even 3.7 inch display, but good enough for when you need it.
Under the hood, there's a simple 600 MHz Qualcomm 7227 processor, the same one used in other lower-end phones like the LG Optimus One, Samsung Galaxy Ace, as well as older high-end devices like the HTC Legend. It's not the speediest thing on the planet, but it's enough for any apps you might want to run, including any 3D games, since it has a dedicated Adreno 200 GPU, the same one used in most high end smartphones of 2010 with the 1 GHz Snapdragon CPU. The 512 MB of RAM ensure that all the apps will run smooth, even if you have a dozen of them in the background and an open browser with 10 tabs – Android does a good job at handling everything, for sure.
Out of the box, you'll have 512 MB of ROM for the OS and your apps, as well as a 2 GB micro SD card for storing your music, documents, notes and whatnot. You can replace it with a bigger card if you need – the phone supports up to 32 GB in external storage. If you like taking occasional pictures and video, you'll be glad to know that the Acer Liquid Mini has a very good 5 megapixels camera that supports wide screen videos in 720×480 resolution – it's not HD, but at least they'll look fine on any modern display, as well as on the YouTube player.
Acer ships the Liquid Mini with Android 2.2, which will be upgradeable to 2.3 via an OTA, and Gingerbread is all you need to be a happy camper for at least a couple of years in the future. Of course, the phone has Acer's custom UI installed, but you can replace it if you don't like it.
The Acer Liquid Mini is already available in most European countries, although no network has picked it up in the US. If you want a simple Android smartphone that looks great and doesn't cost as much as a Sony Ericsson, this is a perfect variant!