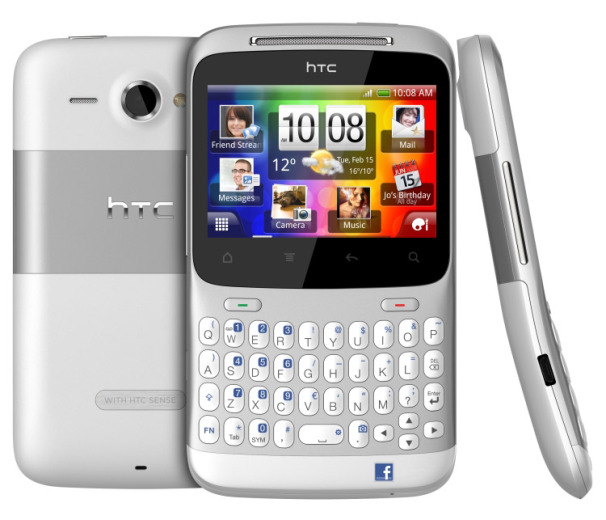 It seems like just a while ago, Blackberry was king of not only the business smartphone world, but also the indisputable leader when it came to high quality QWERTY keyboards for typing, with the form factor of choice always being a portrait style keyboard that can be used with both or even one hand – it made the phones wider, but overall it improved the user experience a lot.
But with the apps revolution and really smart operating systems for phones, everything started to change. Nowadays, Android has already overtaken Apple's iOS in the number of sales on smartphones and tablets, and it's finally starting to eat right into Blackberry's domain. Even with a full touch smartphone, a lot of Blackberry users switched to Android, but now, the manufacturers are kicking it in the high gear. Motorola was first, with their wonderful Droid Pro – practically a perfect Blackberry alternative – with the QWERTY keyboard, touch screen, powerful hardware and powerful Android OS installed.
Now, HTC is getting into the game as well with the HTC Status – an Android smartphone with a portrait QWERTY keyboard and a focus on social interaction instead of business (which is the Droid Pro's domain). You might've already seen this phone before – it was called the ChaCha, but Status is definitely easier to type :-). On the outside, it looks simply a lot like a Blackberry – you could say it's a rip-off, but thankfully the design is not copyrighted and taking inspiration from other phones is still permitted (otherwise we wouldn't have anything but the iPhone!). The build quality is pretty high, with the housing made of plastic with a metal frame and metal accents on the front and on the back cover.
On the front, you'll find a relatively small and weirdly sized 2.6 inch touch screen with a decent 480×320 resolution (so it's basically in landscape mode), but which makes everything on the screen tiny and barely viewable from afar. Using the touch features is not pleasant either, although most of the times you can hit the icons without issues. Under the display, there's your usual combo of Android navigation buttons, also touch-enabled for your convenience.
The keyboard more than makes up for the small display, however, and it allows you to type much faster than you would on a touch screen. They are very comfortable and feel just as good as RIM's models – this is the perfect Blackberry replacement if you want a cheap Android phone with all the advantages of the modern OS. Another specialty that you'll notice is the integrated Facebook button at the bottom, which lets you share anything from a message to a picture and even a newly filmed video on your profile with the click of a button. This will undoubtedly attract those who are heavy users of Facebook.
The keyboard is really this phone's only detail that's worth of attention – the other hardware is pretty decent, but it's nothing special: there's a 800 MHz Snapdragon processor with an Adreno 200 graphics adapter powering the device, which coupled with 512 MB of RAM is more than enough to accomplish any kind of work you'll ever do on this smartphone (the screen size really is limiting). There's also your usual USB, Wifi, Bluetooth, GPS, micro SD card slot (plus 512 MB of internal memory for apps), accelerometer, magnetometer, a 5 megapixels camera on the back with LED flash and a VGA pin hole unit on the front, HSPA+ radio and… that's about it, not that you'll ever need more.
The phone runs Android Gingerbread out of the box, which is great for such a phone and it's definitely better to have than Blackberry OS, even in its latest version 6. HTC used a custom skin to make the most of the limited screen space, with the usual launch bar (which would be in landscape mode on this phone, just like on the Galaxy Pro) being minimized to a button, and the icons/widgets having a slightly bigger size for an easier access.
The HTC Status is already available for sale on AT&T's network in the US, and you can get it for a low price of $49 with a contract – a really nice deal. If you are a frequent Facebook user, heavy texter or just need a good Blackberry replacement, this phone a great options.