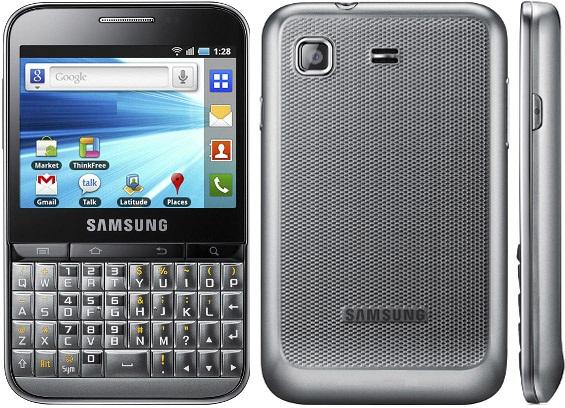 Android is now the world's most used operating system for smartphones, thanks to its great features, user interface, the hundreds of thousands of apps on the marketplace, support from the manufacturers and Google, and in no small part, the dozens of devices that are being released every year, with every new generation being better, faster and overall more awesome than the previous one.
Android smartphones have mostly been keeping to the market and niches created by the first iPhone, i.e. phones with touch screens and sometimes landscape QWERTY keyboards that slide from underneath the display. But now, manufacturers are finally starting to move into other niches as well, including the low end phones market (with great Android phones costing as low as $49 with a contract) and the corporate phones market, which up until now was practically a monopoly of RIM's Blackberry.
Indeed, the Blackberry line has seen a sharp decrease in sales over the past two years, and with new Android phones coming with enterprise-oriented features and great QWERTY keyboards, the trend will most likely continue, which is why RIM has started their "fight or die" policy and are actively improving everything from their software to their product catalog with devices that you could only dream of before if you were a Blackberry user.
But can RIM actually succeed now? Let's take a look at one of the newest Android phones, the Samsung Galaxy Pro, which resembles the Blackberry 3G 9300 by quite a margin, only it is equipped with features the latter can only dream about – it's like Samsung specifically targeted the Curve 9300, as the specs are almost identical, only better on the Pro – I hope RIM doesn't sue them :-).
On the outside, the Galaxy Pro follows the same form factor, with a good 2.8 inch display on the front and a portrait QWERTY keyboard right below it. There are obvious style differences, with the Curve having more rounded edges and a noticeably thicker housing. The screen quality on the Galaxy Pro is also much better, not to mention the fact that it's a touch screen, so you can use it to navigate throughout apps and the Web, answer calls, have more buttons for quick actions and do other useful things.
The other specs are also better on the Galaxy Pro, but just slightly. For example, the camera is a standard for Android phones 3 megapixels unit, while the Curve 9300 has to deal with a pathetic 2 megapixels camera that does not even have autofocus – you could say that business users don't need that, but what if you need to take a photo of a ring and its price tag and send it to your boss – surely, it will be easier to do with autofocus and it will be clearer at a higher resolution, and it's not like RIM didn't have the hardware – their Bold has a great 5 megapixels camera with HD recording capabilities, even.
The Galaxy Pro also has support for Wifi N, Bluetooth 2.1 EDR, HSDPA of up to 7.2 and 2.0 Mbps (download and upload, respectively), GPS, a micro SD card slot supporting up to 32 GB cards, a 3.5 mm audio jack, accelerometer and compass, and a big 1350 mAh battery that will last through more than a day of work. Those specs are actually comparable to the Curve, which only lacks an accelerometer and compass, so that's a good thing, I suppose.
The Blackberry Curve is still ahead software wise, as it supports encryption at hardware level, along with easy IT integration thanks to Blackberry's technologies, and it's practically the only choice if your company already uses RIM as their smartphone provider.
The Galaxy Pro is definitely better overall, and if your business does not use BIS or BES (which also cost a lot) already, it would make a better choice than the Curve, for sure, especially considering that it will be priced lower!