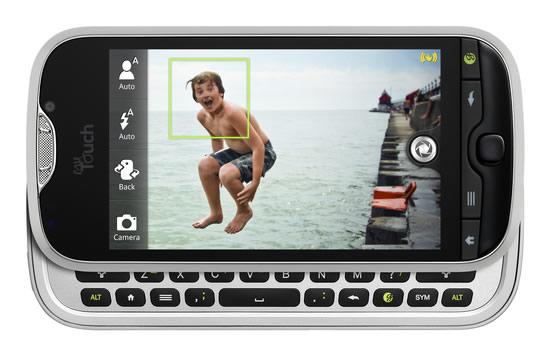 T-Mobile's myTouch line of smartphones is almost as well known and popular as the Sidekick, with some of the best devices coming to the network under this name. The myTouch 4G, which came out just a few months ago, is a pretty popular model among power users, developers and professionals, but it's definitely a more consumer-oriented model, since it does not have any special features or the processing power required to be considered truly high-end. Of course, T-Mobile has already filled that niche with some pretty great smartphones, like the G2X, but the latest addition is probably the best yet: meet the new myTouch 4G Slide!
This phone is truly made for professionals and heavy duty work – it has everything you can think of and more in terms of hardware and software features. The exterior design looks rugged and serious, with the 3.7 inch touch screen taking most of the front surface, with 4 real hardware buttons right below it and an optical track pad, which will undoubtedly prove useful in day to day use (it's much easier to edit a large text file with one, for example). On the back there's the 8 megapixels camera that has an LED flash and supports 1080p video recording, and if you look at the test shots online, you'll see that it's one of the best cameras on smartphones, with a larger f/2.2 aperture that can absorb more light – it's also among the first to have HTC's new extended camera features, including various scene settings and HDR for a much better picture quality in any conditions.
But of course, the main feature of the phone is the landscape QWERTY keyboard, which, as the name suggests, slides out from under the display to provide an excellent input method for long documents, emails, blog posts and what not. The quality is one of the highest around – HTC has had time to perfect the original G2 keyboard, apparently, and the Droid 3 now has a very serious competitor – it'll be pretty hard to choose between these two phones.
The internal hardware has also been upgraded from the original myTouch 4G, with the new phone definitely being part of the top echelon. The performance is provided by the dual core 1.2 GHz 3rd generation Snapdragon processor that is aided by 768 MB of RAM (it may seem on the small side, but it's definitely enough for any apps that you'll need to run) and the new Adreno graphics solution that can easily rival Nvidia's GeForce in the Tegra 2.
Obviously, the myTouch 4G Slide runs on Android 2.3 Gingerbread, and will most likely have an upgrade to Ice Cream Sandwich when it comes out – if not, you can bet the guys at XDA will, so it's not a problem either way :-). A special and very useful (not to mention unique) feature is the integrated Hands Free mode, provided by a dedicated hardware button and Nuance's Dragon Dictation software, which is the best one the market when it comes to speech recognition (as a comparison, Windows 7 Speech Recognition and Android's integrated voice recognition have nothing on it, and I use them every day without any issues!).
This mode allows you to use most of the phone's features without ever touching the screen (you can even activate it using a Bluetooth headset), and it basically lets you interact with the device using only your voice and ears. For example, if you want to write an email to someone using the Gmail app, you can open the app, dictate the message, select the contact or dictate the email address and send it, with the phone providing optional confirmation feedback at every step, so you minimize the risk of errors. The phone will also remind you when you miss a call, receive an email message (which it can also read out loud if you want), have an appointment, and so on. It's pretty useful, however it'll only work in relatively quiet environments OR using a good noise canceling headset.
All of these features come together to create one of the most attractive offers for power users, business users and consumers alike – the T-Mobile myTouch 4G Slide is one of the best smartphones on the market, no doubt about it, and it's definitely THE best myTouch yet – if you need a powerful phone for work and everyday use, this is it!