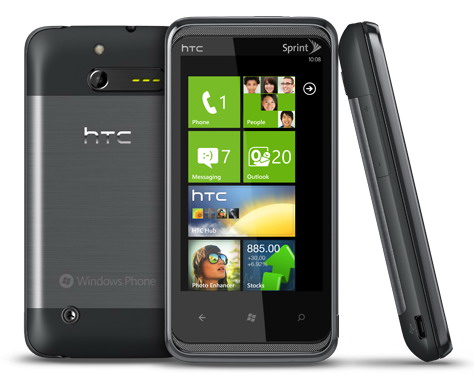 HTC is to Android what Apple is to the iPhone – they've pretty much established themselves as the number one manufacturer, and a lot of the times when people see a HTC phone they think Android. But before Android, HTC was most well-known for creating some of the best Windows Mobile smartphones, and now they're getting back in the game for the new Windows 7 Phone OS.
Up until now, HTC have been just cloning their Android devices to the new Windows platform, however this year thing seem to have changed, and we will be seeing some pretty unique handsets that will only be available for Microsoft's platform, possibly giving it an edge over the iPhone and the many Android phones out there.
One of the smartphones is the much rumored HTC Eternity, also known as HTC Titan. I think the latter name suits it better, since this bad boy will have a 4.7 inch touch screen, a big 8 megapixels wide-angle camera and a fast dual core 1.5 GHz processor – specs that are really befitting of a Titan (although I can see how it can last an eternity in smartphone years :-).
From what we can see from the few leaked pictures of the device, it is a simple slab smartphone that looks a lot like the HTC Sensation and many other big screen HTC devices. Of course what stands out is the big 4.7 inch display, which is a Super LCD unit and should look pretty amazing while being at the outer edge of portability, seeing as the Dell streak's 5 inch monster was too big to hold in one hand and fit in any pockets.
Obviously all of the other hardware features are also the standard level modern smartphone, with eternity having a secondary front facing 1.3 megapixels camera for video calls and their uses, Bluetooth, Wi-Fi, GPS, HSPA+ support and all the other features you can think of. The user will get 16 GB of internal memory, and hopefully there will be a microSD card slot for an additional 32 or even 64 GB. The battery will be a pretty big 1650 mAh unit, which frankly is to be expected of such a big device and will probably last an average of 7-8 hours.
The new HTC will come with the Mango update for Windows Phone 7, which is great news, especially since you can't even use the front facing camera with the current version of the mobile OS. Mango also brings improvements all across the board, over 100 bug fixes and support for GPU accelerated Flash in the browser, which if you saw the video demos, is extremely fast – more so than Flash on the Tegra 2 or Qualcomm's dual core Snapdragon. The Hubs interface and Metro UI is still a matter of preference, though, and it can't be replaced, so if you didn't like it at first look, you'll probably want an Android phone.
There is absolutely no word about the price and release date for the Eternity, but I hope it comes around sooner rather than later, as Android is quickly overtaking the marketplace, not to mention that the next version of the iPhone is also around the corner, waiting to bite into whatever market share Windows Phone 7 has. Microsoft sure has a hard battle ahead, but maybe this phone will be unique enough to help them.