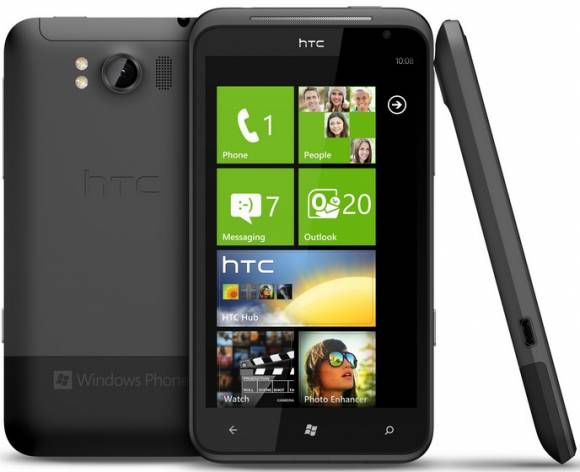 HTC seems to love Android more than Windows Phone 7, which makes sense since so far, it has been their biggest money maker. Most of the first generation Windows Phone 7 devices are more or less copies of Android phones that were released a year ago, and while that does save HTC some money on design and manufacturing, it doesn't do Microsoft any favors.
However, with Windows Phone 7 Mango update out and the number of users and apps on the marketplace growing steadily, manufacturers are starting to pay more attention to the new OS. HTC is no exception, and one of their latest WP7 smartphones is the Titan – arguably the most unique device running Microsoft's mobile operating system, and a very niche device thanks to its main attraction, a huge 4.7 inch touch screen.
The exterior of the HTC Titan (previously known as Eternity) is nothing special: a simple slab design with nothing more than the display, touch buttons and speaker grill visible on the front. The grill, by the way, follows HTC's current design trend – it's long and housed in a distinct gray part at the top. On the back, there's only the camera with dual LED flash and another speaker grill.
The size of the display almost puts it in the same class as the Dell Streak and Galaxy Note – "almost" because it's definitely smaller and at the edge of comfort when it comes to holding it. The whole device is very slim at 9.9mm, which makes it feel slightly better holding it with one hand, although most people will have problems grabbing it and will most likely just rest it on the fingers while using their thumb or the other hand to operate the touch screen.
The display's 480×800 resolution does it no favors: the pixel density is a bit low and the picture is slightly pixelated at a closer look, although the color reproduction and contrast are excellent – on par or even slightly better than Motorola's 3.7 inch legend and almost as good as Samsung's Super AMOLED.
Performance-wise, there will be no issues with the HTC Titan, especially with the new Windows Phone 7 update, however maybe a dual core processor would've been better on such a huge smartphone: the Titan is powered by a 1.5 GHz single core Qualcomm Snapdragon and has 512 MB of RAM for all your multi-tasking needs and resource intensive apps.
As is the case with any recent smartphone, the new Titan has support for HD video filming on the 8 megapixels camera, and the front facing 1.3 megapixels unit can shoot some pretty good footage to be streamed over Skype or Tinychat or simply uploaded to YouTube.
Other hardware features include the usual Wifi, Bluetooth, GPS and the various sensors, as well as DLNA for easy connection/streaming between your home media electronics and HDMI-out for outputting videos, games, presentations and what not to external displays and projectors. The features list is pretty exhaustive and more than enough for anyone.
With the updated Windows Phone 7 Mango, the Titan is sure to fly and actually be useful for all the purposes you may need. The OS now features better multitasking, GPU accelerated Flash in Internet Explorer, improved gaming abilities (gaming on this phone should be awesome, by the way), not to mention over 200 bug fixes that will make the system as stable as it should've been when it first came out.
No word on the price yet, but I have no doubt this will be one of, if not the, most expensive Windows Phone 7 smartphone we'll see this year, although if you want to have as big a screen as possible in a housing as small as physically possible AND you really like gaming or Windows Phone 7, the Titan can make an excellent choice.