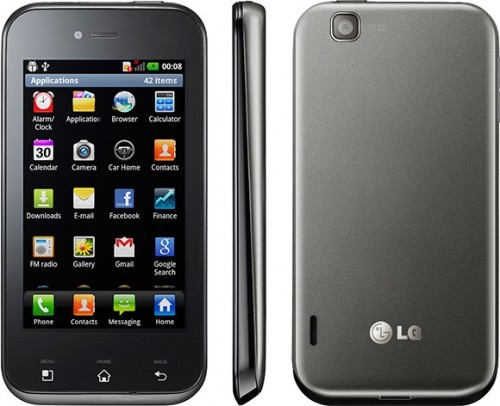 LG has been pretty successful at entering the new Android smartphones market, especially when there was a lot of competition even back then. Their success has mostly been spearheaded by the G2X, a.k.a. Optimus 2X, the first dual core smartphone running Android. It is still their most popular device, however they have also released a lot of other nice phones – it's not like they didn't have the experience, what with all the feature and fashion phones that produced until now.
LG have already entered the low end niche, however the LG Optimus One was a pretty bland smartphone. That's probably why they decided to go at it again with a much more attractive model, which materialized itself in the Optimus Sol – a mid-to-low-end smartphone with premium looks and feel and enough performance to rival any midrange phone on the market.
The LG Optimus Sol looks a lot like the G2X on the outside, which was probably the intention, however it is made out of cheaper materials, mostly plastic, which still feels pretty good but is definitely not up to par with the Optimus 2X. On the front there's a 3.8 inch ultra AMOLED display with a nice resolution of 800 x 480 pixels, which looks pretty damn nice, especially in a cheap smartphone. Right below it are three Android navigation buttons, again in the same style as the G2X (complete with the huge space between them and the screen).
The back of the device is surprisingly clean and devoid of any metal accents like on the G2X, with only LG's logo near the bottom and a 5 megapixels camera at the top – it has no LED flash and no support for HD video recording (as a matter of fact, it only records in VGA resolution), which is definitely indicative of the phone's low-end status, but it looks like this is a software restriction, as the chipset can definitely handle it. There's also a VGA camera on the front, strangely, which is great if you use video calling.
Performance shouldn't be a problem in any usage case: the Optimus Sol may have a simple 1 GHz Snapdragon, but that is enough to run any apps you may need, and the 512 MB of RAM ensure that you'll be able to run them all at the same time without a hitch – what else do you need on a smartphone?
The Sol comes with Android 2.3 Gingerbread pre-installed, which is a good thing, but I don't think it'll get an upgrade to Ice Cream Sandwich when it comes out – not that it matters, since 2.3 does everything you need while being fast and unburdened by a second API and UI for tablets. Of course, it also has LG's custom skin and customizations installed, and they're pretty good, especially when you compare it to the likes of MotoBlur. The support for DLNA means that you'll be able to share anything you want from the phone and to it with other devices quickly and easily.
As a lower-end phone, the Optimus Sol will probably cost around $100 with a contract and $300 without – I expect the price to be slightly lower than these numbers, and if it is so, the device will make a great purchase and alternative to the more expensive G2X and other higher end smartphones.