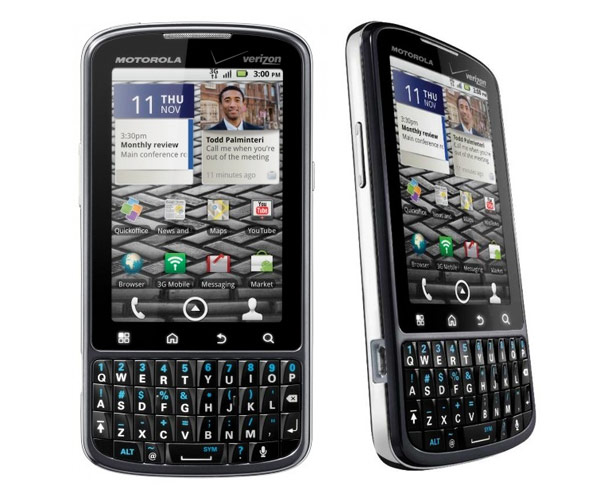 While technically Motorola Mobility is no longer part of Motorola and many people wait for it to be dismantled and sold, but without all the intellectual property (which I doubt will happen, Google is not that stupid), the company will still continue to release handsets for as long as they can – after all, any pause can mean a death slide in market share.
One of their latest devices is an update to the pretty good Motorola Droid Pro, a business smartphone equipped with a portrait QWERTY keyboard that is practically a direct competitor to RIM's Blackberry for the business and enterprise sectors. The name, Pro+, really reflects the changes, as it's basically the Droid Pro with a few improvements, making it better than before but not drastically changing anything.
Subtle exterior changes, VGA screen resolution and a few other improvements
Just by looking at the phone, you could easily mistake it for the Droid Pro at a first glance, however it becomes clear that it's a different phone when you look at it for more than a few seconds: the housing is rounder, giving it a more refined look (it actually looks even more like a Blackberry). The keyboard and screen remain at the same size, however the resolution of the display is now 640×480 pixels, which is practically a golden resolution for business users (I'm surprised it's not as popular as HVGA) and looks amazingly well in 3.1 inches of screen estate.
The other changes include more onboard storage space (4 GB instead of 1 GB), support for faster speeds on HSPA networks (14.4 Mbps download as opposed to 10.2 Mbps), a slightly bigger battery (1600 mAh vs 1420 mAh) and support for HD video recording with the 5 megapixels camera – those are the only improvements over the Droid Pro, but they really make a difference in everyday use.
Other specs remain the same, but Android Gingerbread comes out of the box
The processor is the same old TI OMAP 3 running at 1 GHz and aided by 512 MB of RAM – enough for any kind of apps you might think of running, although obviously it won't compare to the Tegra 2 or other dual core chips. Graphics performance should be high thanks to the integrated PowerVR SGX 530 adapter, and you can even watch 720p HD videos on this thing, but of course the screen will hinder the experience.
The other hardware specs are pretty much the same: GPS, Wifi N, Bluetooth 2.1 EDR, the various sensors (proximity, light, accelerometer and magnetometer), 3.5 mm audio jack, and others. Of course, the Pro+ (oh, and it's only Pro+, without the Droid part) runs on Android 2.3 Gingerbread, which looks very nice and works perfectly. The Droid Pro also has the option of an update to the new OS version, but only the Pro+ will be getting Ice Cream Sandwich in the future.
The Pro+ was just announced, and it is unknown when it will be released, but seeing as it's only a redesign it should be out pretty quickly, most likely by the end of the year. If you needed an alternative to your Blackberry or just want a phone that will work fine and will actually be useful for work, the Motorola Pro+ can be an excellent choice.