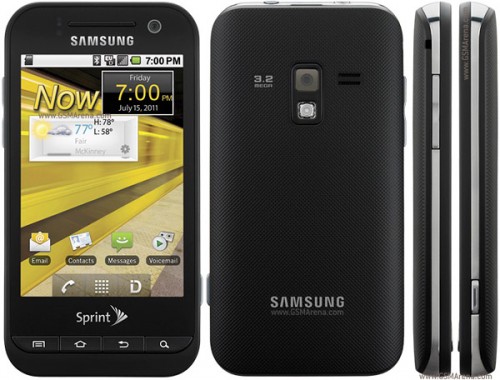 Sprint has a pretty impressive smartphone lineup this year, with something major supposedly coming to the network in the first half of October, according to rumors (and the fact that Sprint sent out a memo informing their employees that they can't get a vacation break between September 30th and October 15th). However, most of their phones are targeted at tech savvy users and business professionals who know how to use their devices and can afford to pay the price for them.
Beginners and newcomers to Android have been left out, until now that is – the Samsung Conquer 4G is supposed to change that, bringing an affordable handset on Sprint that supports their new 4G network and has some pretty decent specs, at a price lower than $100 (with a contract, of course).
The new smartphone doesn't look all that special on the outside, but for a budget device, it doesn't look or feel bad either. The build quality is high, and even though it's made mostly out of plastic (with only a metal frame on the inside), it feels just as sturdy as, say, the Galaxy S2, just a bit cheaper. Samsung is well known for their quality builds, so I don't think there will ever be any problems with the Conquer 4G in that regard.
The display is 3.5 inches, but the resolution is a bit low for that at only 320×480 pixels – it's enough to run most apps comfortably, however the individual pixels are clearly visible, which makes the screen look cheap compared to other phones. There are 4 navigation buttons for Android right below it, and they have a nice brushed metal finish a la Droid X, which makes the whole device look more expensive and professional. It's also great that they're real hardware buttons, as you can grab the phone without accidentally touching them.
With a 1 GHz second generation Snapdragon and 512 MB of RAM working under the hood performance won't be a problem for any tasks you may want to run and the battery life is sure to be more than enough for a day's worth of work. A micro SD card slot provides the storage space, with a 2 GB card shipping with the phone, and the maximum supported capacity being 32 GB.
The two cameras on the Conquer 4G aren't all that impressive: the one on the front is a VGA (0.3 megapixels) cam for video calls, while the one that's supposed to take photos is only 3.2 megapixels in resolution and while it has an LED flash, that won't do much to improve its quality or response time, which is pretty slow.
The users will get all the other hardware features they may need, from Wifi and Bluetooth to GPS and of course support for Sprint's WiMAX network – the whole premise of the Conquer 4G is that it offers 4G speeds in a cheap device. With that, you can easily use it to surf the Web and work with remote files on the go, although a higher resolution display would've definitely helped with that – you can always use it as a high speed modem with your laptop, though, if you need to work with a lot of documents.
Android 2.3 Gingerbread will be powering the new Conquer 4G, and it offers everything you may need, including support for the latest apps and a very nice and clean user interface that looks more elegant and sophisticated than the previous versions and can easily rival the iPhone's OS – a lot of people actually prefer the Gingerbread UI, although the OS itself is more complicated to use and harder to learn by novices.
The Samsung Conquer 4G is available now on Sprint for $99 with a contract, however it has quite a competition in the form of the EVO 4G, EVO Shift 4G and Samsung EPIC 4G, all of which cost the same and have better specs (mainly bigger screens with higher resolutions and better cameras) – if Sprint were to drop the price to $49 or lower, that would definitely make this phone a more attractive offer.