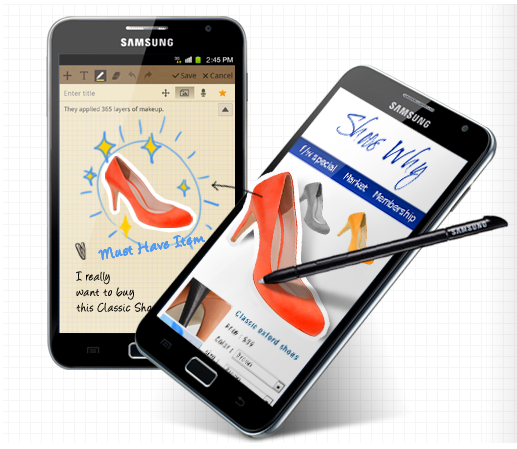 Everybody remembers Dell's Streak – a practically experimental smartphone equipped with a huge 5 inch display which makes it unable to fit in any pockets – it had a very small following of loyal users, however for the most part, everyone avoided it since it was neither a phone nor a tablet (plus the first version ran Android 1.6, which was outdated even at the time).
If you read tech sites regularly, you know that it was silently removed from production by Dell and was generally regarded as a failure. Well, for some reason, other manufacturers don't think so, and are keen on proving it with their own smartphone/tablet hybrids. The first one to do it after Dell was Acer, which demonstrated a 4.8 inch widescreen "100% tablet, 100% phone" that is as-of-yet unnamed. And now, Samsung came out with an even more ridiculous (depends on how you look at it, actually) version – the Galaxy Note, which has a 5.3 inch display.
Even though the edges are very narrow around the screen, the device is still bigger than the Streak and you certainly won't manage to fit it in any normal pockets, except maybe the large ones on cargo pants (even then it would feel uncomfortable to walk). The display itself is nothing short of amazing – it's probably the best display on any mobile device yet: Super AMOLED technology and a resolution of 1280×800, which at 285ppi is very close to that of the iPhone 4. The viewing angles are supposed to be 180 degrees both vertically and horizontally, and the screen certainly looks great from 170-ish degrees, with the image right at the surface of the glass.
Obviously, the Galaxy Note has a dual core processor, running at 1.4 GHz, which makes for a very lag-free experience, and with the new Mali 400 graphics adapter games and other 3D applications should run smoother than ever before. There is a full gigabyte of RAM under the hood, as well, so no problems with multitasking or running memory-intensive apps, although Android 2.3 Gingerbread will never even let you use all that memory because of the limited multitasking (most apps like a Web browser or video player just "freeze" in the background instead of actually running, not that it's a bad thing).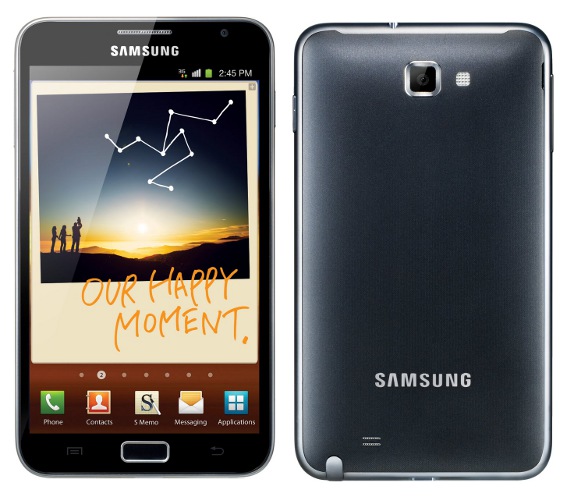 The Note will run Android Gingerbread out of the box, and I'm interested in how will Samsung update it to Ice Cream Sandwich (which they should do): the screen will certainly work with both the tablet and smartphone modes, with the latter being the default choice of Android due to the high pixel density, however the tablet interface should look pretty cool if it's anything like Honeycomb (most likely it is).
Other confirmed specs are the 8 megapixels camera on the back (and a small 2 megapixels one on the front for video calls), which will let you shoot 1080p HD video without problems and take some pretty high quality photos if the Galaxy S2 is anything to judge it by. The battery is a whopping 2500 mAh unit, which would be enough to run any other phone for at least a couple of days, but unfortunately it's a must on the Note if you want to use it even for one day, as the big display will drain it pretty quickly.
Another special feature is the stylus, a welcome addition, even with the big display – I hate selecting and generally editing text with my fingers, and the lack of a D-pad on most modern Android phones left no alternative, until now. The special S Pen is neatly hidden inside the Galaxy Note, just like on the old school PDAs, and is pretty accurate on the capacitive screen. It's also pressure sensitive, which a lot of artists will appreciate.
Certainly, the performance, display and stylus are great features, however I don't know if people would chose to get them with a huge 5.3 inch device – it's the Dell Streak all over again, too big to be pocketable and even held with one hand, and too small to be a good tablet (plus the resolution kills the experience in a browser – you'll have to always zoom in or have eagle vision :-). I'm sure it will find its buyers though, even with the supposedly very high price point.