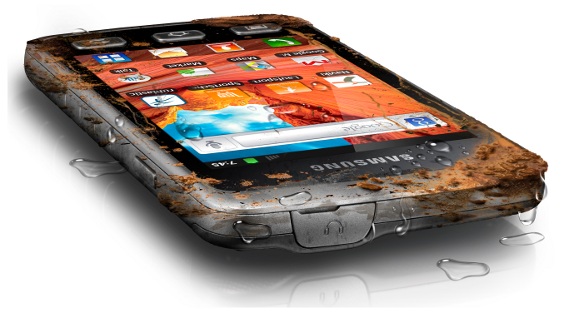 Samsung has certainly been flooding the market with smartphones as of late and getting their fingers in every pie they can get to, from low end feature phones to low end Android smartphones, midrange devices and high end monsters running Android and Windows Phone 7. They definitely have an impressive arsenal, and it's not like the quality suffers from it – as a matter of fact, Samsung's phones are among the most durable and beautiful Android phones.
Needless to say that they also decided to go after the rugged everyday phones niche after Motorola's Defy proved to be a success, and their entry is the new Galaxy Xcover – an IP67 compliant smartphone that can both take a beating and provide the power for any tasks you may need to run, in any conditions. The Xcover series were usually feature phones, but with Android installed, the new model became a real smartphone.
Looks nice, works after dropping or submerging
On the outside, the new Galaxy Xcover looks pretty damn good – it's got a nice form factor with rounded edges and corners, it's relatively small and slim at 122x66x12 mm and of course, it has protection from most elements that a phone may encounter in use: water (it can even be submerged under 1 meter for 30 minutes!), dust and shock (you can drop it several feet without damaging anything). That would definitely be worth a sacrifice in performance or size for some people, but fortunately, you don't have to compromise: the Galaxy Xcover has a nice 800 MHz processor under the hood and 512 MB of RAM, which keep everything running smoothly and as fast as on any other mid-range smartphone around.
All the usual hardware specs and a big 3.65 inch touch screen
The display is a nicely sized 3.65 inch unit with a resolution of 320×480 pixels – yes, the size and resolution ratio is a bit unevenly matched, but the quality of the picture should be good enough and the size of the pixels means you can surf the Web and read a book without straining your eyes like you would on a 800×480 pixels display. On the back of the device, there's a simple 3 megapixels camera with LED flash that can be used to take photos and small video clips – it's about the same quality as the one on the Defy, despite the megapixel difference.
There's also your usual GPS, Wifi, Bluetooth, HSPA support, all of which are a welcome addition – just go see the specs for Motorola's new rugged device, the Wilder, and you'll start appreciating these features more than ever before.
Can it compete with the Defy+, even with Android 2.3 Gingerbread pre-installed?
Samsung has decided to use Android 2.3 Gingerbread out of the box, for which they should be commended, as it's definitely a nice change from the other rugged phones that run 2.2 Froyo at most. Of course, the OS is coupled with Samsung's own Touch Wiz interface, which looks and works pretty well.
The Samsung Galaxy Xcover is definitely a nice addition to the rugged smartphones on the market, however it's set to compete with Motorola's new Defy+, which costs about the same, is already on the market and has better features, while being compliant with the same IP67 certification – I don't know what Samsung were thinking, but I'd choose the Defy+ over this phone. Still, if priced lower, it can be an excellent purchase by itself for those who need a good, durable and reliable everyday smartphone.