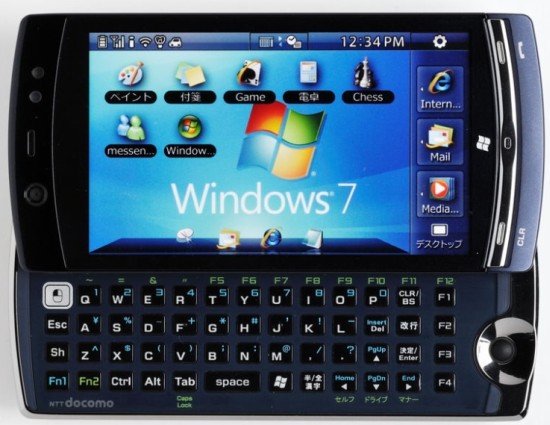 Fujitsu isn't the first name that comes to mind when you think about smartphones – in fact, it doesn't remind of any consumer devices to a lot of people, especially in North America. However, the company actually has quite a few good laptop models, and was among the first to create and sell slates, aka tablets, long before Apple revived the trend.
They also have the LOOX brand name, which has quite a long history and was usually applied to Pocket PC, and later Windows Mobile, devices (plus an unsuccessful experimental Linux PDA). Having decided to finally do something with it again, Fujitsu seems to have jumped the shark and concocted something that few people would actually find useful, but which looks pretty darn impressive: the LOOX F-07C.
At a first glance, the normal reaction of your average citizen would be "Oh my God, what is that, one of the first smartphones in the world?".
Indeed, while the F-07C has a nice 4 inch touch screen on the front that looks and works rather well, it's design and build quality leave a lot to be desired: the plastic exterior (with a metal frame inside, thankfully) feels rather cheap, and looks the same: on the front, the thing is just your usual touch smartphone, with no distinctions whatsoever, unless you count the glossy stripe with buttons.
More importantly, the device is very thick at a full 19.8 mm – from the sides, it definitely looks like some early 2000s monster, and even then Pocket PCs tended to be slightly thinner, I think. But you understand the reason behind the thickness pretty quickly: the phone has a full QWERTY keyboard that slides out from under the keyboard. It's not your usual smartphone keyboard, either, which becomes apparent the moment you open it and see the Windows logo. Length and height wise, the LOOX F-07C is also on the large side – begin 125×61 mm makes it noticeable in your hand.
The main reason behind this madness is revealed when you look at the specs or power the "phone" (it's more like Nokia's communicator, really): using a 1.2 GHz Intel Atom CPU (albeit running at 600 MHz for the sake of battery life and heat), 1 GB of RAM and a 32 GB SSD drive inside (plus an up to 32 GB using your own micro SD card), the device starts up a full version of Windows 7 – I bet you never would've expected that from a smartphone!
The Windows OS is also customized with an interface that makes it easy to launch your favorite apps easier – as you can imagine, the standard main window controls and menus look very small on the 4 inch, 1024×600 pixels resolution display (insane DPI, by the way), and it's pretty hard to do anything besides browsing the Web and writing documents in the full versions of Firefox and Word.
I guess that's why the Japanese manufacturer also includes a second OS, Symbian to be exact, although it's to the original full Symbian what Windows CE was to Windows XP. It's heavily customized and limited by the lack of access to a lot of great Symbian apps out there. This OS is optimized for the small touch screen and can be used just as you would Android or iOS.
All in all, the Fujitsu LOOX F-07C is a pretty interesting device, and it's pretty cool having Windows in your pocket. However, just like is the case with other cool devices, this one is only available in Japan, at a pretty insane price of $800 – I would just get a smaller Android smartphone AND a Windows netbook for the price, but kudos to Fujitsu for diversifying the market!