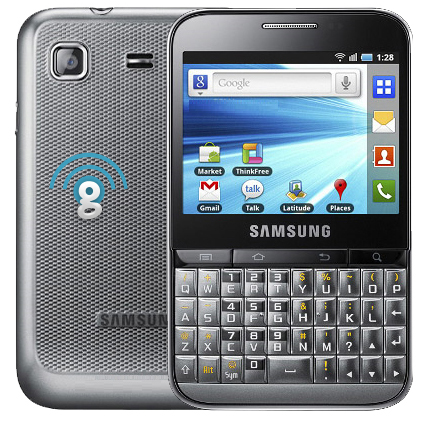 The number of affordable smartphones running Android and coming from big name manufactures (which is why I want to avoid the moniker "cheap") has grown considerably in the past year. While 2009 has only mostly seen cheap (both in price and quality) Android smartphones from "shanzai" Chinese factories, 2011 seems to be the year when the monsters of production in the industry take over the market.
Along with Motorola, LG, Acer and many other manufacturers, Samsung has also diversified their choice of Android smartphones to fit more people who lack the money for a higher end model. One of their latest releases is the Galaxy Y Pro – not a device aimed at professionals, as some might think, but instead an affordable and compact Android handset with a portrait QWERTY keyboard that will surely bring the "Blackberry experience" to the masses.
The new smartphone looks and feels pretty good on the outside – it's certainly on par with LG's Optimus Pro in terms of likeability and build quality, and even the specs are similar. The front is adorned by a pretty small 2.6 inch display, which has the advantage, I suppose, of being in a landscape orientation, compared to other QWERTY phones, which makes Android slightly more usable. The resolution is 320×240 pixels – not much by today's standards, but enough to get things done.
There are 5 hardware buttons for Android navigation right below the screen, and they look and work well – no problems there. The QWERTY keyboard itself is slightly smaller than those on the Blackberries and both the Optimus Pro and Droid Pro, which may pose a problem for those with bigger fingers, but overall should be easy to use by anyone. The feedback and travel are good, and you certainly will be able to type emails faster than on a landscape or on screen virtual keyboards.
The hardware specifications of Samsung's new device are pretty standard, if a bit on the low end of the spectrum, but that's understandable seeing as it is a budget smartphone, after all. There's an 800 MHz processor running things under the hood, although it's not clear who manufactures it (if it's Samsung's Hummingbird, it would be faster than the similar MSM7227 from Qualcomm). With 256 MB of RAM, it won't blaze through everything like the more expensive phones, but it's enough to run almost any app you may want, although running more of them at the same time will prove problematic. Technically, the Galaxy Y Pro should be just as fast as the Motorola Droid, so figure it out for yourself.
Of course, there's the usual Wifi and Bluetooth adapters, GPS, a micro SD card slot, a 3.5 mm audio jack and a 3 megapixels camera that should be enough for any quick shots you might need to take, although it's definitely not equal to Samsung's 5 or 8 megapixels performers.
The Galaxy Y Pro is aimed at students, heavy texters and people who want a simple, fast smartphone that can be used for extensive typing as well as entertainment or any other tasks. The retail price should be around $100 when the device finally comes out, so look forward to it hitting the stores.