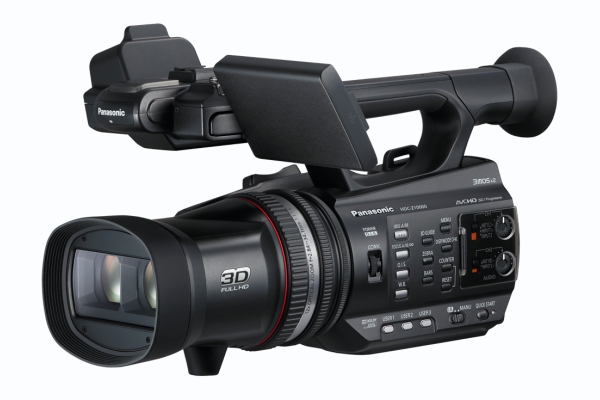 Panasonic is one of the biggest electronics manufacturers in the world, producing everything from television sets to washing machines and satellite antennas. Their optical related equipment is also very popular and high quality, with their Lumix digital cameras getting on many top lists throughout the world every single year.
Their camcorders have been used worldwide by many studios and individuals, both for professional and amateur films, video clips and more. Lately, the company has been getting into the 3D game, as well, having released a couple of 3D TVs, and just recently they've announced their first semi-professional HD 3D camcorder, the Z10000.
Now I don't know why they chose such a long number for the model, but the camera does have some nice specs, plus it looks wickedly cool on the outside. It's got 2 separate lens on the front, placed at the same distance from each other as the average human's eyes are for true 3D filming with an all in one compact device. It's pretty damn impressive, since just a decade ago, filming true 3D took a truck full of equipment, a couple of cameras at least, and here we are now with a simple solution the size of your usual shoulder mounted camcorder.
The Z10000 has 3 CMOS sensors that combine together to provide a full 9.15 megapixels for each lens, allowing for progressive 1920×1080 video recording at 60 frames per second or lower. To monitor the output, there is a 3.5 inch, 1,152,000 dots display near the front of the camera, and of course you have the view finder, which is 0.45 inches big and has 1,226,880 dots that provide a pixel free image straight to your eye.
Not only does the Z10000 have an integrated stereo microphone for quick shoots when you need them, but it also has 2 XLR inputs, with a separate adapter for providing phantom power to microphones and other equipment. There's also a built in speaker, a 3.5 mm audio jack for your monitoring headphones and a HDMI out port for the newer accessories that need it.
The integrated battery is a pretty big 5400 mAh unit, which can be recharged using a separate charger or the optional AC adapter for the camera itself. The camera may not have a special high speed output for writing straight to external drives, but it doesn't need them either, first because it's not a true professional camera, and second because it's got 2 SD card slots that support SDXC cards, so you can technical have up to 128 GB of high speed storage space at the moment, and more in a year or two when 128 class 4 cards become available. And this camera is sure to last more than a couple of years, unless you're really filming the greatest movie of all time.
There's no word on the pricing, but don't expect the first compact 3D camera to be cheap – it'll most probably be in the mid-upper four figure range, which is still not bad considering what you're getting.