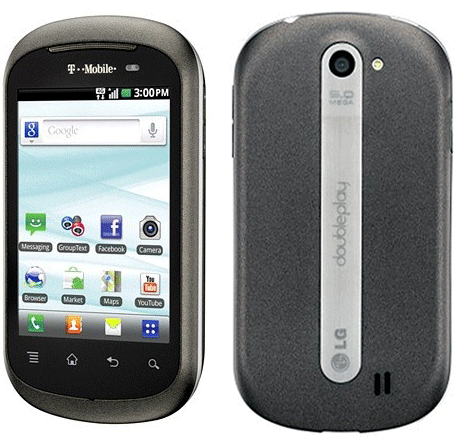 LG has been doing pretty well on the smartphones market since they released their first dual core device, but of course, there's always room for improvement. However, it may not be that easy to compete in traditional niches anymore – there are plenty of great slab and QWERTY slider smartphones out there, and even going for the low end niche has its problems, since there are a lot of cheap phones already on the market, plus the older high end models tend to sell very well at cheaper prices.
The only way out (or in) is to try going for something more unique, and LG did just that with the new DoublePlay smartphone, which will be coming to T-Mobile by the end of the year. The phone features a split slide-out QWERTY keyboard, and two displays, but not in any arrangement you've seen before – the small secondary display is between the two parts of the keyboard, making for an interesting looking device with an equally interesting usage ability.
There have been attempts at introducing split keyboards before, and Nokia's E70 is the first phone to come to mind, but for some reason they weren't very successful – I believe it's just that their timing was wrong, and now that smartphones are taking over everywhere, split keyboards may make a comeback. They're better for two hands typing, that's for sure, and that should account for something.
The keyboard on the LG DoublePlay is good for fast typing, although the relatively small non-separated keys aren't doing it any favors. The 2 inch screen in the middle of it might be worth it, though – it allows you to display more of the same app or a completely different app – for example, you could be browsing the Web on the main display while chatting with someone or taking some notes on the secondary screen. The main display, by the way, is a well sized 3.5 inch unit with the standard 800×480 pixels resolution – nothing special, but it isn't bad, either.
The other hardware specs are in line with most of the smartphones on the market nowadays – you've got your 5 megapixels camera on the back with support for 720p HD video recording, the usual Wifi and Bluetooth adapters, GPS, DLNA and support for HSPA+ speeds of up to 14.4 and 5.76 Mbps download and upload.
The performance should be more than enough for everyday use, although you won't be editing videos anytime soon with the 1 GHz Snapdragon processor and 512 MB of RAM that the DoublePlay offers you. The phone will be powered by Android 2.3 Gingerbread out of the box, which is great, but it won't be eligible for an Ice Cream Sandwich update because of the low specs – not that you'd be able to fully utilize its potential on this device, anyway.
The dual screen setup could prove to be an interesting experience, and the split QWERTY keyboard is worth the attention if you like to type fast and without mistakes, but in the end it will depend on the price – I wouldn't pay more than $150-200 for this phone with a contract, for example, but if it's lower than that, then it'll be a great choice for any avid texter or multitasker.