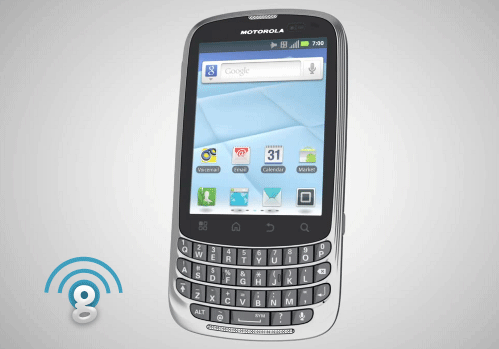 Motorola has been quite successful, it seems, in the portrait QWERTY equipped smartphone market, and not only because Blackberry users are desperate for something else after years of torture. The Droid Pro, XPRT and Titanium are all great devices that deliver an effective tool for those who want to be productive at all times.
And now, we're getting news that the Motorola Admiral, the successor to the XPRT, is finally here and ready for heavy duty work. You might've already seen the leaked photos and the official Sprint demo video, and you know that the Admiral packs quite a punch when it comes to work-related things. It looks like a great replacement for a Blackberry, as well, in case you didn't notice :-).
On the outside, I'd say that the Motorola Admiral is the best looking Android smartphone with a portrait QWERTY keyboard out there – it has a rugged design (conforming to MIL-SPEC 810G, being water, dust and shock resistant) with a metal body that should withstand quite a lot of punishment, and the rounded corners and slightly tapered edges make it look stylish and smaller than it actually is.
The touch screen on the front is 3.1 inches and has a resolution of 640×480 pixels – a step up from the 480×320 of the XPRT, and a great resolution for the screen size – you could say it's perfect for this phone. There are 4 touch buttons for Android navigation right below the display, and the QWERTY keyboard is right below them, as well.
The QWERTY keyboard looks pretty good, but the design of the phone may worsen the experience for a lot of people – the phone is thinner where the keyboard is, and that wouldn't usually be a problem, except that the 4 rows are so low that you'll barely have any space to hold the phone by, making for an awkward typing experience if you have big hands.
Aside from that, the Admiral really has no other faults. The performance should be on a very decent level thanks to the singe core 1.2 GHz Snapdragon processor, while the rest of the specs can easily compete with anything else on the market: the 5 megapixels camera on the back can shoot HD video, there are 4 GB of onboard memory and a micro SD card slot, the usual Wifi, GPS, Bluetooth, accelerometer sensor and other stuff, as well as a big 1860 mAh battery that will definitely last through a day's worth of heavy work.
The handset is running android 2.3 Gingerbread, but unfortunately Motorola still thinks spending money on a bad UI is good business (why hasn't Google fixed that?) and makes the MotoBlur mandatory, because how else are people going to use it? Well, it's not as bad in its latest versions, but to be honest, Gingerbread's default skin looks way better.
Regardless of that, the Admiral is a great choice for a rugged business smartphone that will be used day and day out for managing your time, work and life.