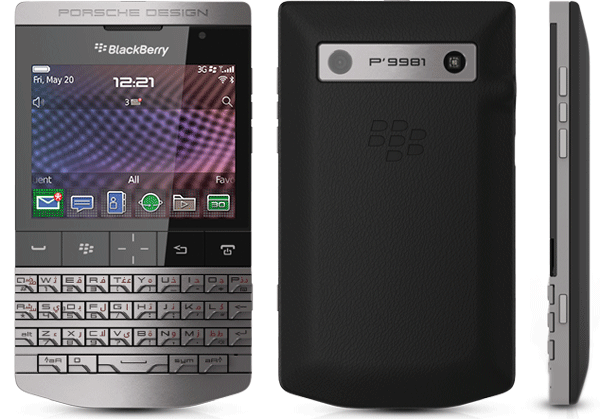 RIM is facing some serious challenges right now, and even though they seem to try their best, their best is just now enough – while their hardware is finally at the same level as competing Android smartphones, their software is hopelessly behind the curve, mostly because they have always maintained legacy support (and you can't do that indefinitely) and because their base was pretty flakey to begin with. With Android Ice Cream Sandwich bringing features like on device encryption, the days of Blackberry in the enterprise sector are numbered.
Even with all that, RIM seems to pull some weird moves. One of the latest such moves is the Porsche Design Blackberry P9981, which is a luxury smartphone based on the Blackberry Bold 9900 and with an exterior design by, you know, Porsche Design.
The handset will go on sale for $2000, making it one of the most expensive smartphone on the market that can actually be used for business (unlike some Vertus out there), but which will never fall into the hands of people who actually look at what they're spending money on – who would choose this phone over an iPhone 4S, Droid RAZR or the Galaxy Nexus other than people who can just drop a couple grand just like that, also known as the 1%, if you've been following the news lately (with all the protests going on).
Obviously, the phone is aimed at rich executives, but what do they actually get for the money?
Well, the most noticeable difference between the P9981 and the Bold 9900 is the exterior design – it's very unique, with straight lines and an industrial styling, with the whole frame (including the front) being made out of a stainless steel block, the back covered with leather (real leather, of course, and it's even supposedly hand wrapped) and the QWERTY keyboard being also sculpted out of steel (that doesn't make it more comfortable, though).
The phone certainly looks unique, but it's not all that special – it would look pretty normal next to the HTC Sensation and the new Droid RAZR, which are also made out of metal and have a few unique elements of their own. The display is the same old 2.8 inch, 640×480 pixels capacitive touch screen that is on the Bold, and there are 5 navigation buttons for the OS right below it.
The internal hardware is pretty average too – a Qualcomm MSM 8655 single core processor clocked at 1.2 GHz powers the whole thing, and there are 768 MB of RAM to help with running the apps, as well as 8 GB of built in storage space and a micro SD card slot under the cover. On the back, there's a 5 megapixels camera that supports HD video recording.
Obviously, the phone has Wifi, Bluetooth, GPS, support for HSDPA and HSUPA (14.4 and 5.76 Mbps download/upload), as well as an NFC transceiver, for whatever good that will do. The device runs Blackberry OS 7 with a few customizations to the interface from the Porsche Design team, which admittedly looks pretty nice. As you're paying a couple thousand dollars, you get a special premium PIN that will allow you to find other P9981 users in a crowd – God forbid you transfer your Top Secret data to someone with an iPhone or a cheap Android phone :-).
Overall, the Porsche Design Blackberry P9981 is not impressive at all – all you're getting is a unique looking Bold 9900 (which already has a very sturdy housing) and bragging rights, but then again, if all your friends have a Galaxy S2 or an unusable Vertu phone, you need to somehow stand out, right?