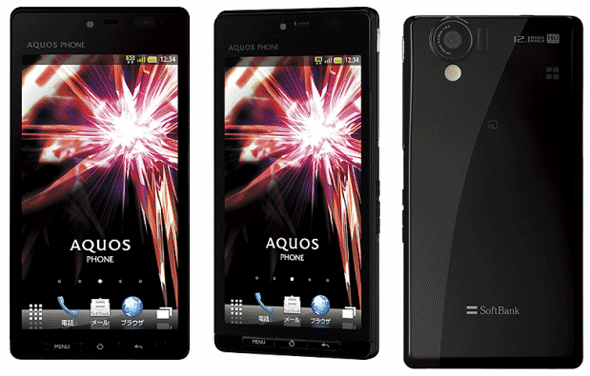 Japan has long been known as the country that gets all the high tech gadgets months and even years before the rest of the world. Related to the mobile world, they got the first 3G network when GSM was in its infancy in the West, they had the first color display, touch screen, multi-megapixel camera, video streaming and more.
But recently, they've started losing the edge, or maybe just, I don't know, going into a completely different direction. While western countries enjoy the various stylish phones with big touch screens, Japan's style seems to be mainly flip phones without touch screens, with a good old numpad and some pretty angular design, which a lot of people actually find ugly now that they have their Sensations and Galaxy S2's.
But that's not to say that Japan doesn't get all that new stuff – they do, and there are a lot of devices that are released on the internal market that would put any modern smartphone to shame. One such device is the Sharp Aquos Phone 102SH – a smartphone that will make you (once again) wish you lived in Japan.
First of all, the device has a very sleek look and feel to it, when you take it in your hands it's like the iPhone 4 all over again back when it was new. It certainly is long and wide at 128×65 mm, but the 9.7 mm thickness makes up for that and makes the phone sit well in one hand, as well as two.
Before we get to the main course, however, let's start with what's inside. Sharp's new Aquos is powered by a TI OMAP 4430 processor clocked at 1 GHz, which is not as fast as some of the high end phones on the market, but still good enough for literally anything you might need to run on a smartphone. And you can run a lot on this thing, too. Obviously, there's a full gigabyte of RAM, because you just can't go with less on this platform, and the storage space is provided by the user's micro SD card, with the maximum supported amount being officially 32 GB (it should support 64 GB, though, with a firmware update).
Strangely, the phone runs Android 2.2 Froyo out of the box, which is already pretty dated, even though it does run all the apps on the market without problems. Android 2.3 should be a must for dual core processors, as it handles the resources better. This seems to be the case with many Japanese handsets, but they always get an upgrade soon enough. Sharp has heavily customized the skin, as well, with the task bar being transparent and the bottom dock and app menu restyled – thankfully, the main advantage of Android, the Market, is still there, intact and ready to provide you with an app for everything.
Now, the big thing about the Sharp Aquos Phone 102SH is the display, which is 4.5 inches on diagonal (as I said, big), has an insane resolution of 1280×720, meaning it probably has the highest DPI of all phone screens, and more importantly, it has support for glasses-free 3D, just like the Optimus 3D, for example, only much better. So there, even in the 3D area, Japan is still ahead. Oh, the Aquos 102SH also packs a nice 12 megapixels shooter on the back that should take some pretty great photos, but that shouldn't come as a surprise to anyone, really. Obviously, the manufacturer included all the other hardware they could think of, and it's pretty much everything you can find on other phones and more.
Sharp will be selling this beautiful performer through Softbank in Japan, and it's doubtful that it will ever reach our shores anytime soon, which is a bit sad, but I guess we'll have to live with it ;-).