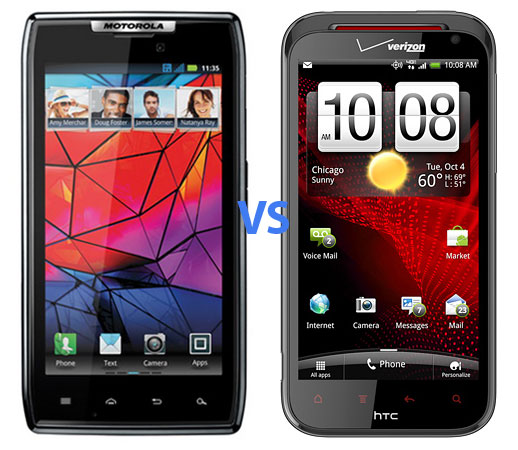 Just a couple of months ago, the Galaxy Nexus was the most powerful smartphone in the world in the minds of millions of Android fans, and when it was finally announced, it turned out to be quite a lot different than what everyone imagined. Sure, it has its HD display, but it is Super AMOLED (instead of the better Super AMOLED Plus), the camera is 5 megapixels, there is no micro SD card slot, no 4G LTE support, the processor is a pretty normal 1.2 GHz TI OMAP, and there's no HDMI out.
Then Motorola announced the Droid RAZR, which actually turned out to be more impressive than the Galaxy Nexus in some regards, and is a worthy competitor for sure, making the choice between the two pretty hard. And just now, HTC came out with their response to the new super powers – the HTC Rezound, which packs yet another impressive specs list and can compete with the Galaxy Nexus and Droid RAZR on equal terms.
I personally think that the Droid RAZR is a better choice than the Galaxy Nexus, that's why for me the real choice is between it and the HTC Rezound – a very difficult choice, actually. Let's see how these two compare and which one is the best choice for a high-end smartphone that will last for years to come.
Exterior and Display
The exterior design is actually best left to everyone's individual taste, however I gotta say that Motorola's new look is very attractive. The Droid RAZR has a razor thin all-metal (and Gorilla glass) housing at only 7.1mm, and has an almost hexagonal shape that is pretty unique – do I even have to mention the Kevlar covered back? Its industrial design is appealing to everyone, even fashionistas, unlike the first Droid, for example.
By comparison, the Rezound looks normal. Sure, it has those red Beats accents, which make it more aggressive, but overall, the design isn't much different than the other half dozen HTC phones out there. You've seen one – you've seen them all, as they say. The build quality is great, though not better than the RAZR's, and of course, you get Beats audio support, which is a bonus for those who like good bass.
The Droid RAZR features a new (for Motorola) 4.3 inch Super AMOLED display with a 960×540 qHD resolution, and it's one beautiful screen to look at – if you've seen the Galaxy S, you know what the deal is all about. Meanwhile, HTC equipped the Rezound with a 1280×720 pixels 4.3 inch Super LCD – a HD display, but honestly, the difference between it and the HTC Sensation's screen is marginal and only noticeable at a closer look. The RAZR's display wins in my book.
Internal Hardware and Features
Both phones have a very impressive array of features – they're practically the best in class. Performance wise, they're pretty much the same, with a dual core 1.5 GHz Snapdragon, Adreno 220 graphics adapter and 1024 MB of RAM powering the Rezound and a 1.2 GHz TI OMAP with an overclocked PowerVR SGX540 GPU and the same 1024 MB of RAM in the Droid RAZR. The TI OMAP is faster than the Snapdragon clock by clock, so the extra 300 MHz pretty much equalize them.
The other specs are pretty much the same: 16 GB of inbuilt storage space + a micro SD card slot, 8 megapixels cameras on the back and 1.3 megapixels units on the front, support for 1080p video recording, Wifi N, Bluetooth 3.0, GPS, 4G LTE support, HDMI out (the RAZR has a separate port, though), 3.5 mm audio jack and the usual assortment of sensors. Yep, a hard choice, indeed.
Software and Price
Both the Droid RAZR and HTC Rezound lose to the Galaxy Nexus in regards to the software, as they run Android 2.3.5 Gingerbread instead of the newer Ice Cream Sandwich, but that's going to change in a few months, when they receive the update and by then, current Nexus owner's will probably rethink their purchase :-). The interface and OS customizations are hardly comparable, with MotoBlur and Sense both having their strengths and weaknesses, and you'd have to see them in person to make a choice.
Overall, I would say that the Droid RAZR is a better phone, but I'd be basing that on nothing – both phones are super-fast, have all the features you can think of, and the only real decision to make is between their design and whether you want Beats audio (basically a built-in equalizer) or not – a tough choice, to say the least!