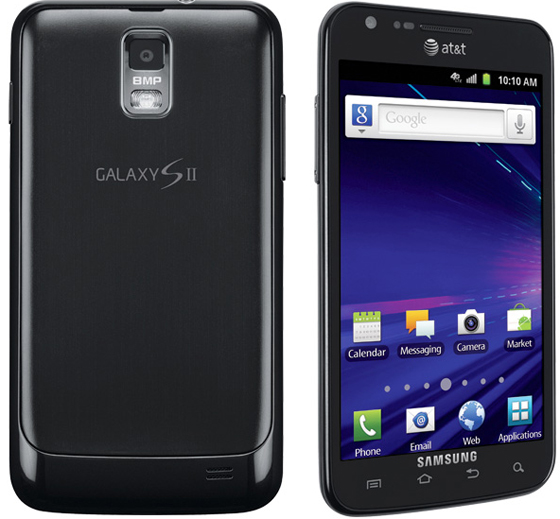 AT&T's 4G LTE network didn't receive as much coverage as Verizon's, or T-Mobile's for that matter, but it's actually a very good one, especially since it's based on GSM (not CDMA, which has traditionally been a bit faster in data transfer). Their range of smartphones that support LTE is also limited, but they're working fast to increase it for all the people who want to switch.
The latest addition to the high speed family is the Galaxy S2 Skyrocket, which, as the name itself implies, is a modified variant of Samsung's Galaxy S2 that is very fast, and that applies not only to its data transfer speeds, but to the overall performance, as well.
The choice of another Galaxy S2 is a bit weird, since AT&T already has one for sale, and customers will undoubtedly be angry about buying it right before a better version is out (the other GS2 has a slower processor and no 4G LTE support) – I don't know whether the company plans on offering an upgrade for them, but it seems like it would be a good idea.
The new Skyrocket looks pretty much the same as the Galaxy S2, or more specifically the AT&T version – it's got the same rectangular design with rounded corners, 4 touch navigation buttons below the display (not three as the original GS2) and a matte black back cover with the lip at the bottom.
The Super AMOLED Plus display is slightly bigger at 4.52 inches (the same one as on Sprint's Epic 4G Touch, actually), with the usual 800×480 pixels resolution that strangely doesn't make it look worse (it must be all those subpixels!), and it makes the phone larger, as well.
The internal components are led by the new Qualcomm Snapdragon APQ8060, which is running at 1.5 GHz on both of its processor cores and features the updated Adreno 220 graphics solution, making the SoC one of the Top 3 most powerful platforms on the market. Add to that the 1024 MB of RAM and you've got one very high performance smartphone in your pocket, ready to rip through anything you throw at it.
There is a 16 GB NAND Flash chip providing the basic storage space onboard the device, and you can add up to 32 GB more using the micro SD card slot that is hidden under the back cover – pretty much what you'd expect from a flagship Android handset, but we still should be grateful to Samsung for including the micro SD slot – I don't know what's with the recent trend of not doing that.
Al the other specs are at a high level, as well – the phone features an 8 megapixels camera on the back with support for 1080p videos, a two megapixels snapper on the front for video calls and occasional snapshots, Wifi N, Bluetooth 3.0, GPS, a wide array of sensors, HDMI out capability through the integrated USB port, an NFC radio and of course, support for the high speed 4G LTE network, which sadly isn't as widespread as we'd want it to be.
You may have already guessed that the version of Android coming by default on the Galaxy S2 Skyrocket will be 2.3.5 Gingerbread – sadly, not even Samsung could ship it with Ice Cream Sandwich. However, the update will be here in a couple of months, just as with all the other newly released smartphones, so it's not that long of a wait. As is tradition, Samsung also installed their Touch Wiz customizations, including the handy accelerometer gestures that can be pretty useful at times.
If you're already on AT&T and you own the Galaxy S2, there may not be that much incentive to upgrade to the Skyrocket – 4G LTE connection is spotty at best outside of major centers, while the bigger display may actually be a drawback, since it makes the phone slightly more unwieldy, and the 1.2 GHz Exynos is more than enough for a current smartphone – you won't need higher performance for years to come. But if you're just looking to get a new smartphone, the $50 extra that you pay for the Skyrocket over the other GS2 on AT&T may be worth it.