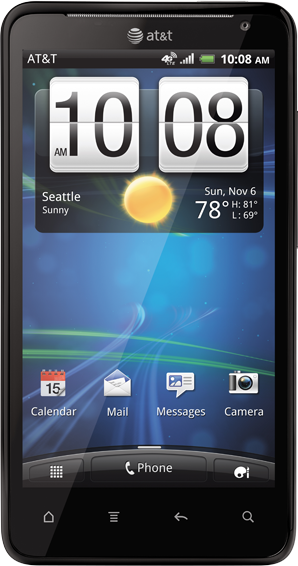 AT&T's 4G LTE (with basically the same high speeds as Verizon's 4G LTE) network has been around for a while now, but it didn't get as much attention as Verizon's, T-Mobile's or Sprint's solutions, for some reason. The operator also didn't really start offering smartphones for the new standard, so that may have played a role in that. But now, AT&T is apparently ready to take on Verizon and Sprint, and one of their first 4G LTE enabled smartphone, the HTC Vivid, will start shipping soon.
The HTC Vivid has actually been on the rumor mill for a while now, known as the HTC Holiday, and it gained the most attention when a photo of it surfaced from a person claiming to have bought it on Craigslist (I believe it had the label "California" on it, too, which kept people guessing). Well, it turns out that it was real, after all, and the purported high end hardware specs have turned out to be true, as well.
On the outside, the HTC Vivid looks pretty standard – a bit different than all the newer HTC Sensation lookalikes and more like the good old Droid Incredible, which I happen to really like. It's rectangular in shape, with rounded corners, 11mm thin and overall it looks pretty plain, making it a perfect choice for those who don't want to attract attention to their $600 phone, or just people who don't care about looks but need the best functionality.
And the HTC Vivid sure does deliver when it comes to functionality. It's got a big 4.5 inch Super LCD with a qHD resolution (960×540 pixels, in case you still don't know), which looks pretty good – not as good as all the Super AMOLEDs and IPS displays out there, but better than most screens of the previous generations.
Under the hood, there is the new, third generation dual core Qualcomm Snapdragon APQ8060, running at 1.2 GHz per core and featuring the new Adreno graphics adapter, which can rival pretty much anything else on the market, even Samsung's Exynos with its Mali 400 graphics chip. The fast processor wouldn't be of much help without enough RAM, so HTC has equipped the Vivid with a full 1024 MB of it – plenty enough to last for years and run any apps you may want.
There are 16 GB of onboard Flash memory, and contrary to the trend, HTC actually equipped the phone with a micro SD card slot – it seems that they're getting a luxury these days, but if you have one, you can easily install another 32 GB of memory and call it a day, since I doubt you'll ever need more than 48 GB, unless you plan on carrying all your work files and music/video collection with you.
Other specs include the usual Wifi, Bluetooth, various sensors, GPS, 8 megapixels camera on the back with support for 1080p recording and a front facing unit, too, plus of course a 4G LTE radio for achieving the new 40+ Mbps download that AT&T promises (and helping the move to the IPv6 standard along the way).
The phone will come with Android 2.3.4 Gingerbread pre-installed, using HTC's Sense UI, but I have no doubt that it will be updated to Ice Cream Sandwich in several months. Regardless, either version will work perfectly fine and will be able to run any of the 200,000+ apps on the marketplace.
It's doubtful that the HTC Vivid will be cheap – being a 4G LTE handset, I'd say the price will be between $200-300 with a contract, and $600-700 without one, which is pretty much the standard pricing , anyway. If you need high speed internet and an unassuming, reliable and powerful smartphone, this might be worth your attention.