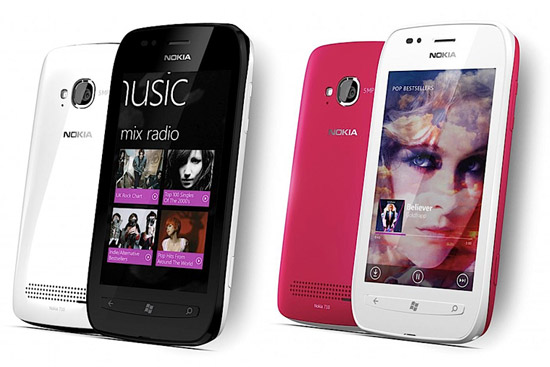 Nokia has finally announced their first Windows 7 Phone smartphone (doesn't sound that great when you say it out loud, does it? :-)), the Lumia 800, which is basically a Nokia N9 running Microsoft's OS. They even went as far as dubbing it the "first real Windows 7 smartphone", which is a bit of an overstatement.
Regardless, they're finally in the game and we'll get to see if the Nokia/Microsoft partnership was actually a good idea or a major fail. Along with the Lumia 800, which is admittedly very nice hardware-wise, they've also announced the Lumia 710, a cheaper, smaller version for those who can't afford the Lumia 800 or don't need it, but still want a Windows 7 Phone device.
On the outside
The new device is nothing special on the outside – it's a pretty normal looking smartphone (the white version is pretty ugly, though) that's made mostly (or entirely, Nokia hasn't been very specific) out of plastic, which makes it feel a bit cheap. On the front, you've got the 3.7 inch LCD display with Nokia's Clear Black coating, which makes it look better than other similar screens, and a resolution of 800×480 pixels.
The back cover is replaceable, and although I think most of us would rather replace their apps, there may be a lot of people who'd like to have a different color once in a while. The drawback of the feature is that it makes the phone feel slightly cheaper, since these covers usually tend to get loose and creak sometimes.
The internal hardware
You wouldn't guess the internal specs judging by the exterior, for sure – the Lumia 710 is actually one of the most powerful Windows 7 smartphones on the market, sporting a 1.4 GHz single core processor (Qualcomm's MSM8255, 512 MB of RAM and the pretty powerful Adreno 205 graphics adapter, all of which should provide a good performance in most apps and games.
The storage space is really low, though, at only 8 GB of internal memory and no micro SD card slot – I bet they did it on purpose, since the 12.5mm housing surely could fit one. Other than that, you've got the usual GPS, Wifi, Bluetooth combo, as well as a 5 megapixels camera on the back for photos and HD video recording – not the best in class, but it'll do the job when needed. The battery is a pretty small 1300 mAh unit, which should last about 6-7 hours of work – not ideal if you're out and about all day long, and definitely not enough if you depend on your phone for your work.
The software
The Lumia 710 runs the updated Windows Phone 7, code named Mango and also known as Windows Phone 7.5, which totals over 500 improvements, bug fixes and new features over the previous version. Still, it has a long way from becoming a leading OS, especially in the corporate sector. iOS and Android are better than it at almost everything, and the latter also got full on device encryption in version 4.0, which means that it can be adopted by the enterprise sector, as well – a market that Microsoft disappointed and lost with their new mobile OS.
The Nokia Lumia 710 isn't all that impressive, but if the price is right, it may find its users in people who like colorful things or enjoy the Metro UI interface of Windows Phone 7. I personally would just get an Android phone for the price, especially since the home screen can easily be made to look like Windows 7's, and you can find even dual core phones for the same price that the Lumia 710 will retail.