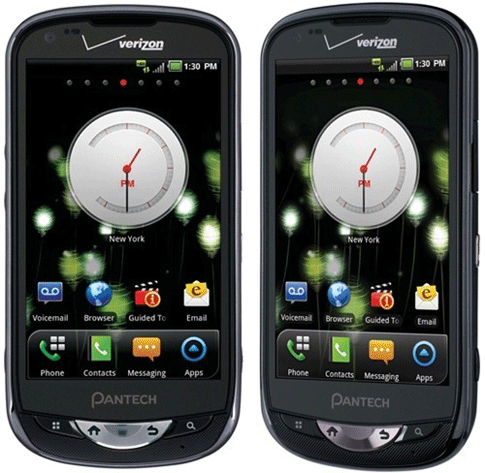 4G LTE entered our lives kind of unexpectedly, with Verizon being the first network to announce it with great fanfare, and all the other networks following through. While not technically a real 4G network (in Europe, they call it 3.5G+), nobody stopped Verizon from using the name and so it stuck.
Regardless of the name, the speed increase is real – you can get up to 42 Mbps and 10 Mbps download and upload speeds, respectively. For some reason, however, there are a limited number of phones that support the new standard, and all of them are among the most expensive on the market – it's like an exclusive club out there!
Verizon decided to fix this and released a more affordable smartphone that has a 4G LTE radio and doesn't cost as much as some phones unlocked – the Pantech Breakout is only $99 with a contract and has a pretty good features set for the price in addition to support for the new network standard.
I'm sure a lot of people never heard of Pantech – indeed, it sounds like some cheap Chinese knock-off of Panasonic or something, but the company is actually a South Korean phone manufacturer who's been pretty successful on the international market – they've been making smartphones for Brazilian, Japanese, Australian, North American and Korean markets for quite a while now, and they're actually the third largest handset manufacturer in South Korea, behind only Samsung and LG. They've also had phones on AT&T and Verizon, although they weren't particularly popular.
Anyway, the Breakout is a pretty well made device – it may look a bit simplistic, but it's sturdy and should hold up well in everyday use. The display is a 4 inch unit with the usual 800×480 pixels resolution, and it's slightly lower quality than those on other similar smartphones, capable of only 262,144 colors as opposed to the usual 16 million, which makes the picture somewhat less smooth and sometimes pixelated.
Right below the display, there are 4 Android navigation buttons, and their design is just… cheap. It's these buttons that make the phone look cheap at first glance, otherwise the build quality is pretty good, even though it's mostly plastic. The phone is pretty well-sized at 127x64x12 mm, although it obviously won't win any titles for design.
The performance should be pretty average for low-mid end smartphones, with Pantech going with a cheap single core 1 GHz processor and 512 MB of RAM – that's previous generation specs right there. The storage space is provided by a micro SD card that you have to buy, which isn't that bad – at least you've got the option.
The rest of the hardware is pretty standard, though – you've got Wifi N, Bluetooth, GPS, a 3.5mm audio jack (on the left side, which should make it uncomfortable in a pocket), a front facing VGA camera for video calls and a 5 megapixels camera on the back, which is pretty average in photos but supports 720p video recording but has no LED flash – I found it useful a lot of times (more so than HD recording), so it's weird that they didn't include it.
The Breakout will be running Android 2.3.3 out of the box – a customized version, at that, with Pantech's own skin – why manufacturers choose to waste money on this is beyond me. The stock Android Gingerbread is great as it is, although maybe you'll find the new skin more attractive. Among the unique features are the widget wheel and the doubled notification bar – the latter should be pretty useful, actually.
The Pantech Breakout is a pretty nice phone, but definitely not for the price and not for what you're getting. For $99 you can get a much faster smartphone with a better screen and camera, albeit without 4G LTE. But is the faster data connection worth it? Not unless you live in one of the major cities, I'd say – if you drive a bit further from say, San Francisco, you won't be getting 4G LTE anytime soon. Besides, even the normal 3G is enough at the moment, and you won't be using it to full extent on a smartphone anyway, so an entry-level 4G LTE device doesn't make much sense.