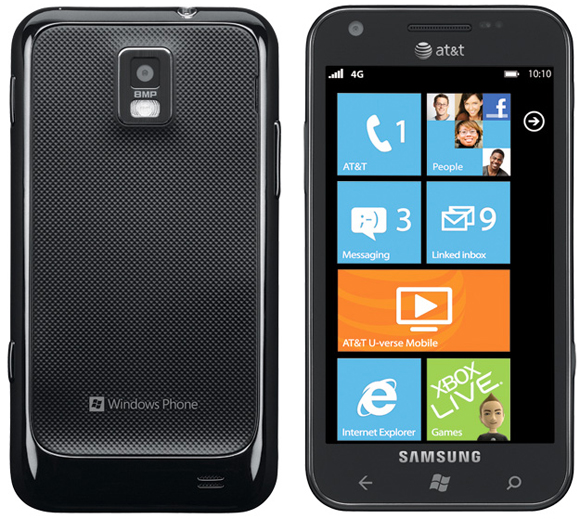 The phenomenal success of Samsung's Galaxy S2 Android smartphone has sparked a lot of rumors that the handset may be coming in a Windows Phone 7 flavor, as well. Turns out, people were right, as Samsung announced something looking a lot like an S2, but with Microsoft's OS on it quite a while ago, and now we're finally seeing it in person – I'm talking about the new Samsung Focus S, which is one of the few high end second generation Windows 7 smartphones.
The new device does look a lot like the Galaxy S2, more specifically its US variant on AT&T, the Skyrocket, with the same overall shape and style (even the bottom lip on the back is the same). The only noticeable change is in the touch buttons below the display – they are obviously different for Windows 7 Phone. The phone is also 8.5mm slim – not a surprise if you've seen the Galaxy S2 – and has a 4.3 inch, 480×800 pixels Super AMOLED Plus display, which you may recognize as the staple of the GS2. Thanks to it, the Focus S has the most vivid colors, highest brightness, excellent contrast levels and the best visibility in sunlight of all Windows Phone 7 smartphones.
Sadly, the similarities end at that, as the internal hardware is quite different than the Android flagship smartphone, and not in a better way, either. Instead of the powerful dual core processor that is standard in all Galaxy S 2 models, the Focus S has to make due with a 1.4 GHz single core Snapdragon and the Adreno 205 graphics adapter – for a Windows Phone, that is the best you can get nowadays, and it's plenty fast in any apps, especially with its full 1 GB of RAM, but still, it makes it difficult to compare it directly to other Android phones.
As a result of using an older second generation Snapdragon, the 8 megapixels camera on the back is only able to shoot video in 1280×720 resolution, not Full HD, but that doesn't stop it from being one of the best cameras on the market. There's also a front facing 1.3 megapixels unit for video calls and various snapshots – pretty standard fare. The storage space is limited to 16 GB, though – there is no micro SD card slot for expansion, which is surprising to say the least.
Other features include Wifi N, Bluetooth 2.1 EDR and GPS adapters, accelerometer, proximity and light sensors, an NFC radio that makes the phone more future proof, and support for AT&T's HSPA+ network (download/upload speeds of up to 21.1 Mbps and 5.76 Mbps, respectively) – that's actually more features than any other Windows Phone 7 has, except for the Lumia 800, which has all of that plus HDMI out capability, and it's pretty surprising that Samsung didn't implement one in the Focus S, as well.
There's not a lot to be said about Windows Phone 7.5 Mango – yes, it brought a lot of improvements and fixes, and yes, it makes Windows Phone better than before, but on the surface, nothing has changed – users still have the same Metro home screen, which looks pretty nice but is already getting boring (besides you can have that on Android, too), and the Hubs, which are the main feature of Microsoft's mobile UI. One thing that Windows Phone 7.5 is better at is gaming – games look and work awesomely well on Windows, and apparently it doesn't matter whether it's the desktop or mobile version of the OS.
Overall, the Samsung Focus S is a pretty good smartphone, but it's nothing impressive. The display is great, and it is in fact one of the most high end WP7 handsets, so if you like the OS, it may be worthwhile to check it out.