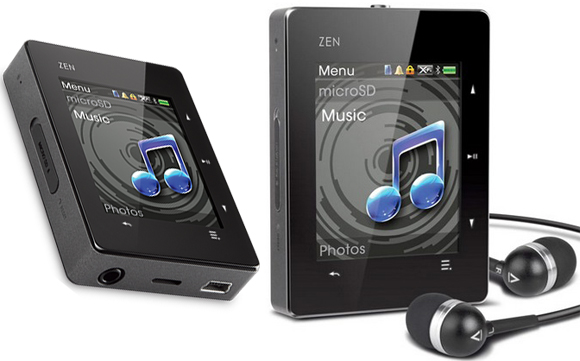 Creative was a pretty big company back in the day, but lately, they haven't been really active. Aside from the usual audio system and audio card (which they're very good at, by the way), there's not a whole lot going on – and it shows, as their profits were in the negative the second year in a row in 2010 (and probably third by the end of 2011).
Creative was actually one of the first companies to release both portable mp3 players and portable video players, even before the iPod and iPod Touch, and their products were well known for being reliable and having a high audio quality, a thing which sort of faded away after a few years. And they're still present in the niche with their ZEN X-FI products, which are among the best on the market based on audio quality, but sadly, they're virtually unknown in the US.
One of the latest in the line is the ZEN X-FI3, a great media player… with a pretty horrible design. Seriously, if not for its great audio quality and Bluetooth connectivity, I'd never even look at it in a store. I'm guessing Creative was going for a sort of industrial look, but they ended up with a small rectangular… thing, which might attract only hardcore hipsters and maybe steam punk lovers :-).
The X-FI 3 is supposed to compete with the iPod Nano, by the looks of it (nobody actually confirmed that), but the Nano's main feature is its touch screen, which is notably absent on the X-FI3, and that limits its capabilities and ease of use by quite a bit (although it's pretty useful when skipping tracks in the pocket).
The other specs, however, far exceed those of the iPod Nano. The Creative ZEN X-FI 3 can play most of the file formats and codec on the market, including mp3, wav, wma, acc, and even flac, which provide the highest audio quality possible, being uncompressed and all. There are two models with different storage capacities of 8 and 16 GB, but I'd personally go for the cheaper 8 GB variant, since the X-FI 3 has a micro SD card slot to extend the available space with up to 32 GB more – that should be plenty enough for even the most hardcore audiophile. It's another story if you store unconverted video files, which the player can easily play back, but why would you do that?
There's also a USB port for data transfer and charging, a 3.5mm audio jack (d'uh) and an integrated speaker and microphone for when you want to use it as a Dictaphone. The 2 inch display is pretty good, but nothing special, and the battery should last about 10 hours of continuous playback. The unique X-FI Crystallizer and Expand technologies make the audio quality crystal clear and amplify the stereo effect for a better scene, which results in a better experience when listening to music on the go.
The most interesting thing is the Bluetooth radio – it is very high quality and it allows you to listen to your favorite music wirelessly using stereo A2DP headphones, a desktop Bluetooth installation, your car's radio and any other receiver. Thanks to the apt-X codec, the quality of the audio is very high, letting you hear nice bass and guitar as if through cable headphones. Speaking of which, Creative ships the X-FI 3 with a pair of EP-630 ear buds, which are pretty good on their own.
Overall, hardware specs wise, the X-FI 3 is a pretty good device (except for the lack of a touch screen), but as I said, the design just kills it – although, if you like how it looks, you could have a pretty great and unique player for an affordable price.