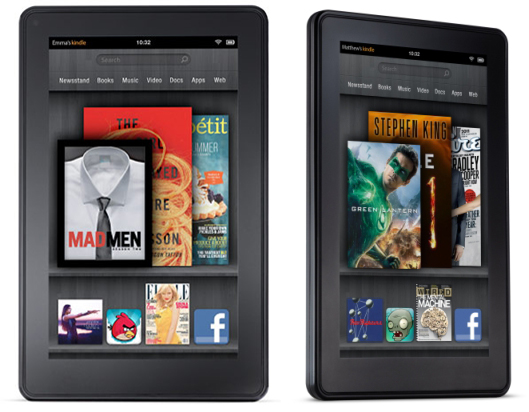 Amazon is one of the few tech companies that just seems to do everything right. When they announced that they were releasing an Android tablet that would supersede the Kindle reader, everyone just assumed it would be a success. So far, the Kindle Fire's sales numbers have confirmed this suspicion, making it one of the breakout hits of 2011. But is the Kindle Fire really worth it for budget tablet buyers who want something beyond an E-book reader? We'll take a hard look at the numbers, the user feedback, and the critical reviews and try to give you a definitive answer to that question.
Hardware
The Kindle Fire sports a 7", 1024 x 600 IPS screen, a 1GHz TI OMAP 4430 dual-core CPU, 512 MB of RAM, and 8 GB of storage. Those numbers compare rather favorably with the iPad, which really only bests the Kindle Fire in terms of screen size and on-board storage. Considering the iPad is a full $300 more, it's not a difficult decision to make if you aren't concerned with getting the iPad's much-lauded aesthetics. Ports are fairly limited, offering micro USB for charging but no microSD card slot to bump up storage space. At 14.6 ounces, it's almost unbelievably lightweight.
Software and UI
Despite the fact that the Kindle Fire runs atop Google's Android 2.3 operating system, most users will have a hard time recognizing anything Android-like in its layout or user interface. Amazon has completely overhauled the theme to make the Kindle Fire's desktop look completely unique. Simple navigation buttons are located on the bottom, giving users easy access to the Silk web browser, Amazon's Newsstand, Music, Books, Docs, Video, and more. The Kindle Store gives users access to all manner of print content, while Amazon Prime offers a Netflix-like experience for those who enjoy movies and TV show on their tablet.
Performance
Boasting hardware that's nearly as powerful as any other mid-range tablet, the Kindle Fire is zippy and responsive under most conditions. The hardware is a big help, but the real reason the Kindle Fire really pops is the support of Amazon's many cloud-based computing services. When you're not downloading E-books and movies, you'll most likely be interacting with Amazon's high-quality Silk browser. Already recognized as one of the best mobile browsers available on any device, Silk makes surfing the web with a touchscreen tablet an absolute blast.
Applications
The Kindle Fire doesn't look like any other Android you've seen, so it's not particularly shocking that the Android Market isn't available here. In its place is the Amazon App Store, which features nearly 10,000 available programs. That's a far cry from the Android Markets 400,000 or so, but you won't really miss anything. Every major service is represented, including Hulu, Chase Bank, ESPN Scorecenter, Documents To Go, OfficeSuite Pro, and Netflix. All of the default applications that come standard with the Amazon Kindle Fire are fairly full-featured and should be enough for most users' needs. Documents and E-mail provide all the basic functionality you'd need, and everything major is accounted for before you even begin to download additional applications.
Networking
One of the major drawbacks of the Kindle Fire is its lack of 3G wireless capability. It's Wi-Fi only at this point, so mobile high speed Internet isn't an option at this point. For most people, this isn't a huge problem, as the Kindle Fire is more of a device for consuming media at home and reading E-books on the couch. As such, its versatility out on the streets isn't much of a concern. One thing that should be mentioned is that the Kindle Fire is limited to 15 Mbps in terms of download speeds. It should be remembered, however, that 15 Mbps is still plenty of bandwidth.
Final Thoughts
Amazon has already sold several million units of the Kindle Fire thus far in 2011, and shows no signs of letting up as we roll into the new year. For $199, it's not a difficult purchase to justify. It's a terrific tablet for a great price. If the lack of mobile high speed Internet is a deal-breaker for you, Amazon may be rolling out such capabilities in the future if consumer demand warrants it. Expect the Kindle Fire to become even more widespread and popular in 2012 as more consumers jump on the bandwagon.
thanks to Ruben Corbo, a writer for the website Broadband Expert where you can find high speed internet providers in your area and compare prices on different deals for your mobile broadband needs.