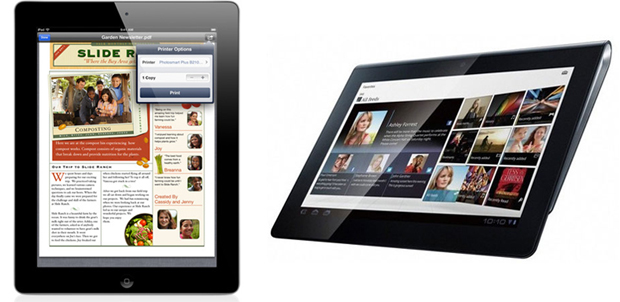 The Apple iPad is undoubtedly the most popular name on the tablet market, with both the first iPad and its successor having sold more units on their own than most other manufacturers combined – if that's not an indication of success, I don't know what is.
But competition is good, and there was never a lack of good competing devices from various other computer hardware and consumer electronics manufacturers, using Google's Android as their main OS. Among the most popular are Samsung's Galaxy Tabs, Motorola's Xoom and HTC's Flyer. But there are plenty of other interesting tablets that are less known, yet very good. Sony's first two entrant to the market, the Tablet S, is one of the most interesting tablets, at least from a design perspective. It's almost natural to compare it with the current king of the market, which is, of course, the iPad 2.
Exterior design and the display
You already know how the iPad 2 looks – simple and elegant. Those two words describe it perfectly, and its aluminum shell with a tough Gorilla glass on the front will never get old. It's also very sturdy and can be used in field conditions, as well. The Sony Tablet S is really something different when it comes to design – it uses a never-seen-before wedge design, which makes it very ergonomic and great for work and play. The wedge design also allows it to be used pretty comfortably on a desk, which is great if you want to type something long without using any bulky accessories.
The displays are comparable on both tablets when it comes to quality, although the Tablet S' 9.4 inch unit has a higher DPI at its resolution of 1280×800 pixels, resulting in more text and pictures fitting the screen, as well as a slightly better sharpness of video. It's nothing drastically different than the 9.7 inch, 1024×768 pixels unit on the iPad, though.
Performance and hardware features
The performance of both the Tablet S and iPad 2 should be at about the same level – both tablets use a dual core processor, with Apple opting for their own A5 chip, and Sony going for the veteran Tegra 2, which can still easily match the newer dual cores on the market. Both chips run at 1 GHz per core, however the Tablet S has 1024 MB of RAM, which is arguably better than the 512 MB on the iPad 2 ("arguably" since iOS and Android are pretty different beasts, with the former being easier on the resources).
The tablets have almost the same hardware features set, so let's look only at the differences. There's only two main differences – the Tablet S has a better main camera, 5 megapixels (vs 0.7 MP on the iPad 2) and a micro SD card slot in addition to the onboard 32 GB of storage space – but these two can mean a lot if you want to take good photos and store more data than the onboard memory allows. The Tablet S also has a smaller battery, which won't last nearly as long as the iPad 2's, although you should be able to squeeze 7-8 hours out of it (the iPad can work for 10+ hours easily).
The software
The iPad 2 obviously runs iOS, and with over 500,000 apps on the marketplace, there is no shortage of things it can do – it can even edit HD video on the fly, for crying out loud! The Tablet S has Android 3.0 Honeycomb installed, and while there's no app to edit video (yet), you can do pretty much everything that you can on iOS, sometimes better. The user interface is pretty good on both devices, although it's quite different, with iOS having a simpler, less-customizable layout, and Android being the more advanced one with its replaceable launcher and stuff. The Tablet S will also be eligible for the new Android 4.0 upgrade, although it's unknown when it will come – it will be worth the wait, though.
Both the Sony Tablet S and Apple iPad 2 have their strengths and weaknesses, and it may be a bit hard to choose between them. The Tablet S has the advantage if you want a device for work that can be comfortably used in your hand (with a stylus, maybe), while the iPad 2 is better for novice users and people who want a tablet for reading magazines and playing games – but any of these two would work perfectly for any purpose.