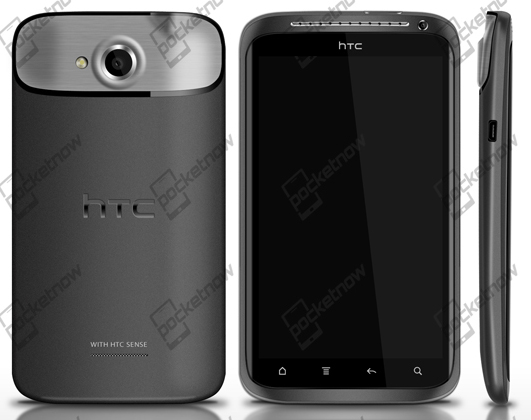 Just a little over year ago, dual core processors in mobile devices were a new and extraordinary thing, yet today pretty much all of the high and mid-range smartphones and even low end tablets carry one inside, and it's common as day to have two 1.5 GHz cores working at full speed inside a device that is supposed to fit in your pocket and last at least 6-7 hours of continuous work on a battery charge.
And now, we're skipping the triple cores and moving on straight to quad cores. NVidia has already announced that their Tegra 3 processor is ready and is entering production, and Asus has reassured everyone that the first tablet running it, the Transformer Prime, is on its way for an early 2012 release, without delays.
HTC is preparing the first smartphone with a quad core processor
HTC, on the other side of the mobile market, is preparing the first quad core smartphone, running on the same Tegra 3 platform, which is simply impressive. The phone is known as the HTC Edge, and it's pretty much a confirmed device, unlike the HTC Zeta, which proved to be just a concept (albeit a very cool one).
From what we can see on the leaked screenshots, the new smartphone looks a lot like HTC's other phones, more specifically the Sensation, with the same overall shape, rounded corners and speaker grill. For some weird reason, the rendered picture still has external navigation buttons for Android – it's weird because they're not necessary anymore as of Ice Cream Sandwich, so it's either that HTC will be shipping the phone with android Gingerbread (highly unlikely) or the phone was being planned even before Android 4.0 came out (most likely).
The specs are pretty good, but the performance is the real kicker
Anyway, the upcoming smartphone will use the NVidia Tegra 3, with all four cores running at a staggering 1.5 GHz – just imagine, today's fastest dual cores run at that frequency, and here you have a quad core, which practically doubles the performance. As the Transformer Prime benchmarks have shown, the Tegra 3 mops the floor with pretty much everything else on the market when it comes to performance.
The other specs of the HTC Edge include a 4.7 inch HD display, 1 GB of RAM (which seems a bit low, actually), an 8 megapixels camera on the back with support for 1080p video recording (the usual stuff) and a 2 megapixels unit on the front, as well as HDMI out, the normal selection of wireless adapters plus an NFC transceiver (I suppose it will be a common sight in the future). There will be 32 GB of internal Flash storage space, as well as a micro SD card slot – hopefully, since it seems that it's "in" to leave it out.
The phone is supposed to be officially revealed in 2012, at the Mobile World Congress conference, but it may actually be announced earlier, what with manufacturers trying to be the first in any sector they can (and HTC is no exception).
image source: Pocketnow