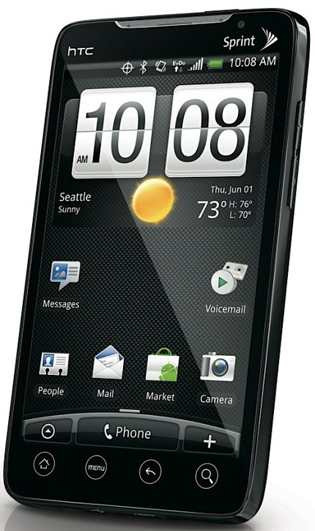 The HTC EVO name is practically an icon in the smartphone world, being the first name to have a super-sized handset that was actually very successful, and the first brand name to have a 4G phone released. Lately, there have been no new releases under the EVO brand, until now – HTC has announced the EVO Design 4G, but unfortunately, it is not a game-changing player, nor does it mark a new milestone for smartphones – it's just your usual, run-off-the-mill handset specs wise, and it looks like it was made specifically for diehard fans of HTC's design (hence the name, I suppose).
The phone looks like the most generic smartphone HTC could've come up with – it's got the usual for the last two generation of HTC devices rounded corners, long speaker grill and slightly tapered back –you know it's a HTC the first time you see it, and you can't really confuse it with some other company. The build quality is simply great – HTC used a unibody design, and with the housing being made mostly out of metal, there are no flexes or creaks, the device just feels very solid. The Design 4G is pretty well sized, but thick, at 121x61x12mm – it's smaller than other monsters that are currently on the market though, and it sits relatively well in your hand, so the size is nothing to complain about.
The display is smaller than on the previous EVOs (except the QWERTY slider), at 4 inches, but the quality is actually better. It's a Super LCD unit with a 960×540 pixels resolution, i.e. qHD, which gives it a higher pixel density and makes the picture sharper, with more text fitting on the screen, as well. The viewing angles are pretty good, and the contrast and brightness are right up there with the best LCDs on the market.
The performance really nothing out of the ordinary – in fact, you could say that the phone is pretty much low end by now. We're living in the dual core smartphones age, with quad cores already coming next year, and even the cheapest mid-range smartphones being equipped at least with a 1 GHz Tegra 2 processor. Instead, HTC has used the good old single core Qualcomm Snapdragon running at 1.2 GHz. They must've had a lot of these chips in stock, or else they would've gone for something faster. It's not a bad processor, but even at 1.2 GHz, it is noticeably slower when rendering Web pages, for example, and it will be even more so in about half a year. The only saving grace would be an overclock, but not many will be able to do that.
The other specs include a 5 megapixels camera on the back with an LED flash and support for 720p video recording, a 1.3 megapixels unit on the front, Wifi N, Bluetooth, GPS, and other standard goodies. The phone also supports GSM and UMTS bands, along with the CDMA/WiMAX ones for Sprint, and with a SIM card slot under the hood, it can work anywhere in the world.
Interestingly, this 1 GHz single core phone will get an Ice Cream Sandwich update, up from the pre-installed Android 2.3.5 Gingerbread, and that's interesting because there are some dual core phones that won't be getting the upgrade on Sprint's network, which might make some people angry.
At $100 with a contract, the price shows that the Design 4G is mid-range, although I'm really not sure it's worth it – there are better offers, especially now, and unless you really, really want a HTC designed phone on Sprint's network, you'd be better off with something else.