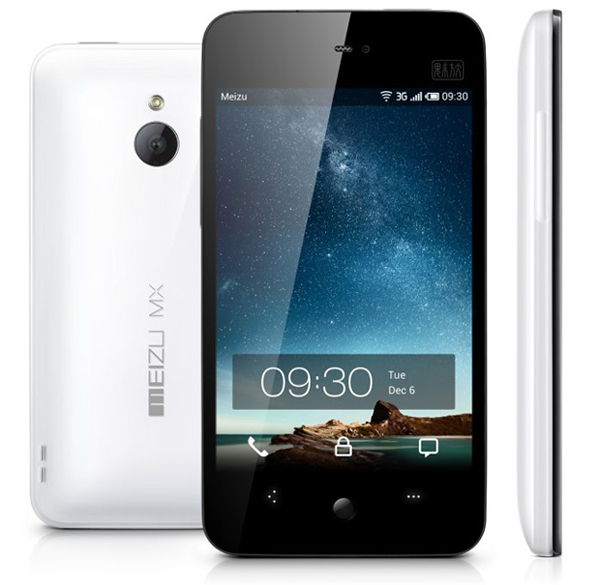 While there are a lot of affordable Android smartphones, most of them are pretty mediocre when it comes to either performance, build quality or both. Unless you want to buy a used previous generation high end phone, you'll have to either live with the below-average feature set or just pay more upfront and get a new high end phone with a contract.
Meizu really surprised everyone when they came out of nowhere and announced the M9 – a powerful smartphone with all the specs of a flagship Android handset and a great build quality that started selling at almost half the normal price for such a device. It seemed unsustainable, but even now, the price is very low and more importantly, they've already announced the successor – the Meizu MX (I'm guessing the X stands for 10), which packs even more high end hardware into a thinner housing and still costs much less than the competition, which includes the fastest versions of the Galaxy S2, Droid RAZR and LG Nitro HD. Pretty cool, huh?
The Meizu MX looks pretty standard on the outside, with the only changes from the M9 being a slightly thinner housing (10.3mm instead of 11.5) and the different design of the front navigation buttons, speaker grill and the back cover. The display is now a 4 inch unit, with a resolution of 960×640 pixels (yes, just like the iPhone), and it's an ASV panel, too, which means that the colors, contrast and view angles are great.
You won't be missing anything when it comes to performance – in fact, the Meizu MX should be faster than the competition in a lot of benchmarks, even if just a bit, thanks to the Samsung Exynos chipset, which is running at 1.4 GHz for each of the two cores, and uses a new ultra-fast Mali GPU. The 1 GB of DDR RAM should be enough for any kind of heavy multitasking or memory hungry apps. The first model ships with 16 GB of internal storage space, with a 32 GB version coming soon, and there's a micro SD card slot, as well, so you can have up to 48 or even 64 GB of memory if you need it.
All the other normal features are there, of course, and you'll be able to enjoy the Wifi N and Bluetooth adapters, GPS transceiver, HSPA+ radio, HDMI out port and the half dozen sensors without any issues. The camera on the back is an 8 megapixels unit, with a back-illuminated sensor (like Sony's Exmor R) and support for 1080p video recording, while the front facing camera is a simpler 1.3 megapixels unit for video calls.
The phone will be shipping with Android 2.3.5, which has gotten a complete revamp from the company, with a sleeker interface and a ton of new features and apps. You'll be able to flash a vanilla version, as well, if you want – Meizu has specifically stated that their phones will be open to hacking and modding by anyone. An upgrade to Ice Cream Sandwich has also been promised, and we believe they will deliver.
The price for all of the above is only $470 for an unlocked smartphone in China, and I have no doubt there will be some additional discounts to get more customers, so that makes for one great bargain. Let's hope that things turn out to be just as good as with the first model.