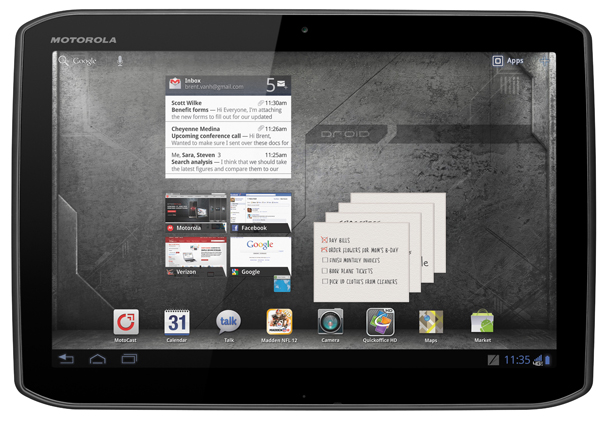 The Motorola Xoom was the first tablet to run on Android Honeycomb and have no external navigation buttons, and even though it was a critical success, with most reviewers and potential users being excited about it, it did not do anywhere nearly as well as Motorola, or anyone else for that matter, had expected. Despite offering quite a lot for a nice price, there weren't that many buyers and ultimately, Motorola probably even lost money on the tablet.
But the company is not one to give up, especially now that they're owned by Google, and after the successful launch of the Droid 3, Droid RAZR and Droid 4, all of which are pretty impressive and are doing much better than the Xoom ever could (although to be fair, they're smartphones and there are a lot of apps available for Gingerbread, as opposed to Honeycomb when it came out), they've announced and released the Droid Xyboard tablets, two of them: 10.1 and 8.2 inch screen size versions.
The Xyboard 10.1 is basically the Xoom's successor, or a reborn version of it. The design takes more than a cue from the Droid RAZR, with the same hexagonal shape and ultra slim housing. The tablet looks like it was meant for work, not for flashing it in front of other people, although you can do that with the screen at full brightness, as well :-). The build quality is great, with the front being covered by one big sheet of Gorilla glass, the sides having a soft rubbery plastic that makes it easy to hold to the tablet and the back being covered by a sturdy piece of gray plastic – it looks just like the RAZR and Droid 3 and 4 – industrial, serious and ready for action.
The 10 inch IPS display is probably the same unit that was used on the first Xoom, with the same 1280×800 pixels resolution and a great color reproduction, brightness, contrast and viewing angles – basically all you need for a nice and comfortable experience.
The hardware specs of the Droid Xyboard 10.1 aren't really that much different from the Xoom – the tablet has the same Wifi N, Bluetooth and GPS radios, a bunch of various sensors, a 5 megapixels camera on the back for photos and video and a 1.3 megapixels unit on the front for video calls and whatnot, with the exception being the addition of a 4G LTE radio instead of the old 3G one. Sadly, the tablet doesn't have a micro SD card slot, so you'll have to choose one of the three variants – 16 GB, 32 GB and 64 GB – right away, and for each increase in memory, you'll pay $100 to Verizon (quite expensive for 16 GB!).
The performance should be right up there with other top tablets, although it's nowhere near the upcoming Transformer Prime with its quad core processor. The Xyboard 10.1 uses the TI OMAP 4430 chipset, which seems to be everywhere these days, and running at 1.2 GHz, it should provide enough speed for any kind of application. The 1 GB of RAM helps, as well, especially when you have a dozen apps open in the background.
The Motorola Xyboard 10.1 will be shipping with Android 3.2 Honeycomb, and it will get an Ice Cream Sandwich update sooner or later, so there are no worries on that front. Obviously, Motorola added some customizations of their own to the interface, but thankfully they're minimal and do not interfere with the Android experience – in fact, they might actually make it better.
The Xyboard (which sounds like Cyborg if you think about it 🙂 10.1 is already available from Verizon, and if you need a good tablet that means business this Christmas, do take a look at this device.