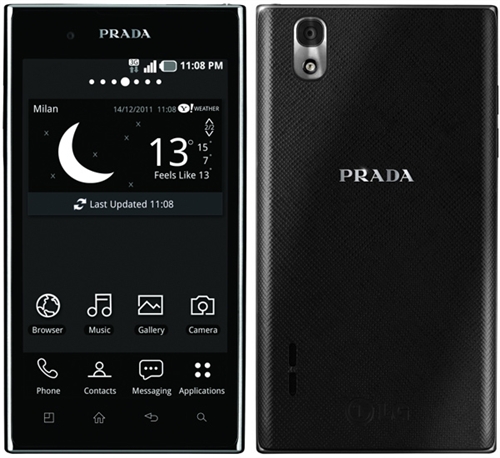 LG and Prada have a long history together (well in the tech world it's long) – they've released the first phone with a capacitive touch screen, which competed directly with the Apple iPhone, at least on the hardware level. On the software level, it was just another feature phone and it turned out that Apple had nothing to worry about. The LG Prada was a fashion accessory first, phone later, and it accomplished that functionality perfectly.
Then came the second LG Prada phone, this time sporting a QWERTY keyboard that was pretty good, actually, at the time. Unfortunately, neither LG nor Prada learned from the first mistake (or maybe they considered it a success?) and used some proprietary OS again, giving the users no room for freedom or expansion software wise.
But now, with the smartphone being the new cellphone, it's time that the fashion accessory phone takes another step forward. LG and Prada will again be announcing a phone, named "Prada Phone by LG 3.0" – a long and pretentious name, but then again, so are the customers who'll be paying extra for it. So is it worth it?
The new Prada Phone looks pretty damn good – it's definitely just as, if not more stylish than the Samsung Galaxy S2, and it just has that air of superiority about it. We're not yet sure what the phone feels like, but I'd imagine it's made out of some premium materials like metal for the frame, glass on the front and some great plastic or again metal on the back.
The leaked hardware specs do impress, though – this time, the Prada Phone is definitely a smartphone, and it's not only about the software (which is a heavily customized version of Android). The phone has a 4.3 inch NOVA display with a 800×480 pixels resolution. NOVA is LG's own technology for making the display (up to 800 nits in this case!) brighter and black levels darker, while reducing the amount of energy it consumes. It's kind of like PenTile, only it seems to have a better picture quality, as you can see for yourself on the Optimus Black (and compare it to the Droid 3 while you're at it).
The performance does not take a hit from the fashion-first policy, either – the Prada Phone 3.0 uses a dual core TI OMAP 4430 processor running at 1 GHz per core, and with 1024 MB of RAM, it should be plenty fast in any apps. Obviously, you've got the usual Wifi N, Bluetooth 3.0 and GPS radios, as well as the standard selection of sensors (including NFC) and ports, including a 3.5 mm audio jack and HDMI out.
There are 8 GB of internal storage space, a micro SD card slot for expansion, and the 8 megapixels camera on the back should be able to take some pretty impressive shots if other LG phones are nothing to judge by. The 4G radio supports speeds of up to 21 Mbps download and 5.76 Mbps upload, which is more than enough at the moment.
All of this hardware fits inside a nicely sized 127x69x8.5mm housing, but you'll have to pay quite a lot for it – can't help it if you want some exclusivity, though, and I doubt it'll cost more than the Porsche Design Blackberry.