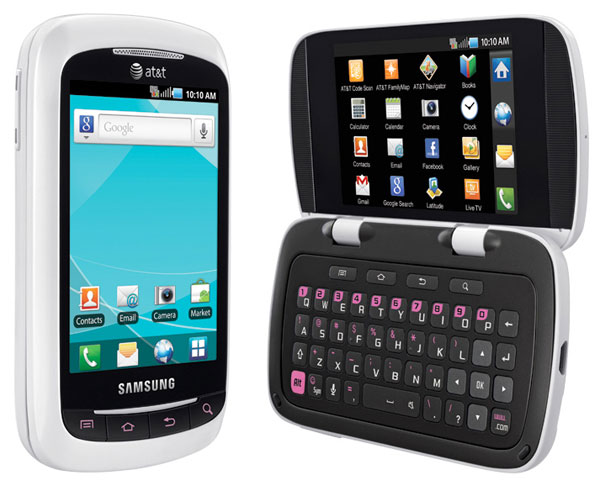 Samsung is easily the top smartphone maker at the moment – they have phones for every niche of the market, from the high end Galaxy S2 and its numerous variants to the mid-range Galaxy S (which was once a flagship and is still a very nice phone) and low end Galaxy Ace and Galaxy Pro. Moreover, unlike many other companies, all of Samsung's products are pretty good, and none of them have any major drawbacks, making them a perfect choice for the targeted market.
Having been focused lately on marketing the Galaxy S2 and creating about half a dozen of different variations of the design, it seemed like Samsung forgot about the low end market – as a matter of fact, they didn't, and just recently they've officially announced the DoubleTime – an interesting smartphone that caters to budget conscious people, but can its two displays and hardware keyboard overcome the weak processing power and make it a device worthy of attention?
The DoubleTime has a pretty unique design – in addition to the 3.2 inch, 320×480 screen on the front, it has a second identical unit on the inside, along with a well-sized QWERTY keyboard. The clamshell design makes it possible to accommodate such a big keyboard, and with the keys being big enough to fit any fingers and quite a lot of distance between them, it's almost perfect for typing long emails, documents or forum posts without making too many mistakes.
I'm guessing that Samsung is targeting teens with the design, and the white/black colors with purple accents confirm that. The hinge is also very strong, so unlike other phones like the good old HTC Tytn 2, the display part won't tumble down at the lightest touch or move. There are also two fixed positions where the hinge clicks into place and is very firm, useful for typing or setting the phone on a desk to act as a clock or calendar.
While the keyboard is more than good enough, even on the small screen and low resolution, the performance of the device suffers a lot from Samsung's decision to use a slow 600 MHz processor with 256 MB of RAM – definitely not the best of choices. I understand that the two displays may be expensive, but compromising on the processor is not a good idea – they could've at least used a 1 GHz model. Anyway, while a lot of apps will run fine and video will play back well thanks to the dedicated GPU, many will not, and unless the user overclocks the processor using third party tools, it'll make for a very uncomfortable experience, especially for teens who are already mostly used to fast dual core smartphones.
The other hardware specs are pretty decent, although nothing special – Wifi, Bluetooth, a 3.2 megapixels camera, a micro SD card slot, GPS and a few sensors – all the usual suspects are present and accounted for. There's also a 2 GB card included in the package, although most people would need an upgrade right away.
Strangely, the phone comes pre-equipped with Android 2.2 Froyo, and judging by the specs, it won't be getting an upgrade, ever. That's sad, since Android 2.3 Gingerbread is really the best OS at the moment and it's noticeably better and more polished than Froyo.
The phone will come to AT&T's network and will sell for a low $50 price with a contract – possibly lower for the holidays (even free, I'm guessing).
It's not a phone that most tech-savvy people would want, but the simple and sturdy design and great keyboard would make it good for teens, kids or less tech-savvy family members in need of a new phone.