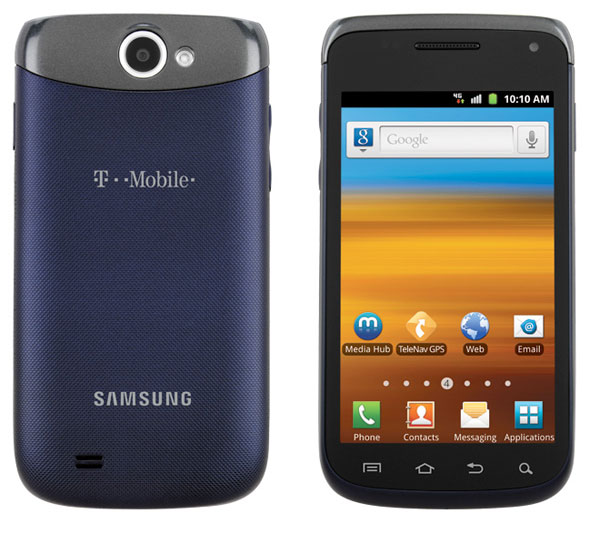 While most of the smartphones come at very low price thanks to the subsidized contracts, that makes the networks increase the non-contract bound price to a higher than the MSRP specified by the manufacturers, and while most people will accept the terms and stay in the contract for a year or two, many prefer getting their smartphone unlocked and not bound to any network.
Until recently, the only ways to get an unlocked phone in the US at a decent price was to buy it online, from overseas or from a specialized company, but thankfully, network carriers have wised up and started selling their phones at normal prices, while T-Mobile also added a collection of devices specifically for prepaid users. One of the latest additions to the line is the Samsung Exhibit II 4G – a nice handset that can do most of the things you'd expect from a smartphone, at a very affordable price.
On the outside, the phone looks pretty simple – it's just a slab with a screen and navigation buttons on the front, a camera on the back and nothing else worth noting. The design reminds more of Samsung's Bada OS-equipped models than of their other smartphones, although the materials are mostly plastic, with a metal frame to keep it sturdy and durable.
The display is a very decent 3.7 inch, 480×800 pixels TFT-LCD unit – it's not the best Samsung has to offer, but it's definitely not bad, with the 16 million colors being vivid, bright and with good contrast levels.
The performance is taken care of by a 1 GHz Qualcomm Snapdragon SoC (MSM8255), which uses the Adreno 205 graphics adapter, coupled with 512 MB of RAM – this setup should be more than enough for most tasks and the phone will even play HD video and the latest games with no issues. Most of the times, the storage space in prepaid and budget smartphones is provided by the user with a micro SD card, but in this case Samsung included 4 GB on internal memory, too – useful for getting started, but you'll still need to buy a micro SD card for more space.
Despite being a budget smartphone, the Exhibit II 4G has support for 4G speeds (as is obvious from the name) – you can download and upload data at up to 14.4 Mbps and 5.76 Mbps, respectively, which is more than enough nowadays, even if you're streaming HD videos on Youtube or Netflix. There's also a dual camera setup, although none of them would impress anyone – the one on the back is a 3.2 Megapixels unit with an LED for flash, and the front facing unit is a simple VGA camera, mostly useful for video calls. HD video recording is supported by the chipset and camera itself, although Samsung has not integrated the feature in the phone (it's a budget phone, after all).
The other specs are pretty decent, as well – you have the usual Wifi, Bluetooth, GPS, DLNA, USB out, 3.5 mm audio jack, accelerometer, magnetometer, light and proximity sensors – practically everything you'll need to make the most out of the smartphone.
You get all the features above with the unlocked phone to be used on any network you want for only $200 – that's a very good price, I'd say – not even used smartphones cost this low. T-Mobile and Walmart also offer you a contract-free $30/month subscription for 5 GB of data, unlimited texting and 100 voice minutes, which is pretty much perfect for a prepaid phone, but you can always get a better package from T-Mobile themselves or other networks around the world (and yes, the phone does work with 4G networks worldwide and in the US, as it's using a mix of both frequencies).