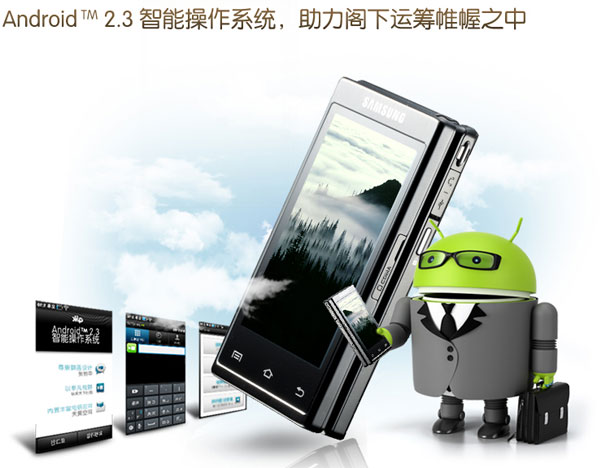 Samsung is pretty active on the smartphones market worldwide (very active, actually), and while they've released some pretty powerful, nice looking and iconic devices, there's not a lot going on design wise from the company. Sure, they have some of the most attractive handsets, but they're nothing special in essence – just perfected versions of existing form factors and trends.
What most of us don't see, though, is the products that Samsung has to offer on other markets, like Japan, Korea and China. Just recently, they've announced a pretty unique smartphone, the SCH-W999, which will only be available in China, so most westerners won't see it, ever, and that is a shame – at least we can marvel at it and its impressive specs from afar.
The W999 is a flip smartphone, sort of – it flips all the way to 180 degrees. The reason for that is the dual display configuration. Samsung has pulled a weird one on this phone – it has equipped it with a numpad, D-pad and the usual Android navigation keys, as well as two 3.5 inch capacitive touch Super AMOLED screens, each with a resolution of 800×480 pixels. It's not a "two screens transform into one" phone, either, as you can only use one screen at the time – one with the keyboard below it and one in "full touch" mode, with the keyboard on the back (like the Motorola Backflip). The back cover also has the same HyperSkin as on the Galaxy Nexus for a better grip and anti-smudges.
An interesting decision to say the least and I really don't see the point of it, unless it's meant for two people watching a video at the same time. Regardless, it looks pretty unique, and the internal features also match its dual personality. The phone is equipped with a dual core 1.2 GHz Qualcomm Snapdragon MSM8660 processor, two radios (CDMA and GSM, which is very impressive, actually) and two SIM card slots (in the best Chinese traditions). Performance won't be a problem, as you can tell, especially since there's 1 GB of RAM inside (too bad it isn't 2, though).
Of course, all the other features are also there – Wifi N, Bluetooth 3.0 EDR, GPS, one 5 megapixels camera that can be used for video calls, as well as a HD video recorder or point and shoot, a micro SD card slot for storage space, USB port, but sadly there's no HDMI out capability. The phone runs Android 2.3 Gingerbread, and it will probably be updated to Ice Cream Sandwich, as well.
You might think that the battery life will suffer from two displays, but actually, you can only use on display at a time, so you're not losing hours off the work time, it just makes the phone thicker and "dual mode".
The price is also double that of a phone equipped with one Super AMOLED display – at $1400 for an unlocked, contract-free unit, this has got to be one of the most expensive phones in China. Perhaps it is aimed at businessmen – the two radios and two SIM card slots practically guarantee that it'll work anywhere in the world, and that's pretty important for traveling professionals.