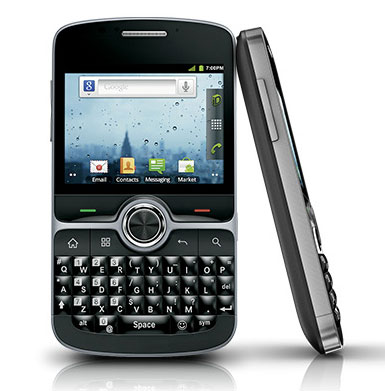 Sprint has a pretty good collection of smartphones at the moment, which can satisfy anyone, from power users looking for a high end smartphone for all their work and entertainment to people switching from cellphones who want something affordable, yet still decent enough performance wise to run all the tasks they may need.
Of course, the arms race never ends between carriers, and they need new devices to be able to stay competitive, and Sprint is no exception. Among the many other smartphones coming to the network in the following months, the Sprint Express fills the low end budget inventory, and with its small overall size and portrait QWERTY keyboard, it might just be the perfect choice for those switching from their good old cellphone, but who still don't want to get into the whole "whose screen is bigger" game that smartphone manufacturers (and users) seem to be playing nowadays.
The smartphone is made by Huawei, who is slowly getting more US market share, especially in the budget niche (the AT&T Impulse is a great phone, for example), and has a pretty good design and construction, especially for the price. It is only 114mm in length, and even though it's pretty wide at 63mm, it feels more like the phones of yester-year than modern big-screen smartphones. The 12mm thickness is just enough to make it feel substantial and sit well in your hand(s).
On the front, you'll see the small 2.6 inch display (with an also small 320×240 pixels resolution) right away, along with the QWERTY keyboard, navigation buttons and a D-pad, which is very handy when scrolling through stuff or writing a long email or document (sadly, most manufacturers seem to have forgotten about this). In fact, this phone resembles a Blackberry even more than a lot of the other portrait QWERTY devices out there like the Samsung Galaxy Pro. The keyboard is pretty well made, and although it doesn't hold a candle to any Blackberry, it's still good enough for writing anything.
The internal hardware is nothing to talk about – in fact, I'd be ashamed of even mentioning it :-), but it's good enough for people who don't care about that and just want a phone that works AND holds a charge for more than half a day. The phone has all the usual features like Wifi, Bluetooth, USB, GPS and 3G, but the processor and RAM will slow everything down, for sure – Huawei used a low end (and low power) 600 MHz Qualcomm and 256 MB of RAM, which are just enough to run Android Gingerbread and some apps, but won't hold for anything more intensive or any heavy multitasking.
Yes, the phone runs Android 2.3 Gingerbread, which is actually a surprise, since it's supposed to have a 1 GHz minimum processor speed requirements – then again, it runs fine on the original Droid and even the HTC G1, so it should be pretty smooth on the Sprint Express, as well. There are a couple of hundred Megabytes of storage space inside, but you can always buy a micro SD card to expand that to up to 32 GB.
The phone costs only $20 with a contract, so it's a good deal for everyone who is just getting into the smartphone world and doesn't need a powerful computer in their pocket at all times.