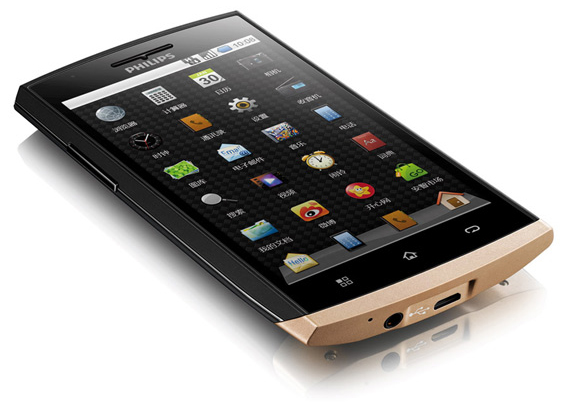 Of all the electronics manufacturers on the market, Philips is probably the last one you'd expect to move in on the smartphones market, but I suppose the booming industry will attract anyone. The company was actually a pretty popular phone maker in the past, but they've had quite a lot of problems and most of their phones were proved to be over the safe limit of emitting microwaves. The financial problems Philips had in the past decade stopped them from competing on the phones market completely, but now it seems that they want to make a comeback.
Their entry bid – the W920 smartphone, photos of which have been leaked recently, and we've learned the specs and suggested price, as well. I gotta say, either the information is old (which is highly unlikely) or Philips has lost (or never had any) touch with the realities of today's phone market.
First, I gotta say that the Philips W920 looks pretty good – it's got a decent design, with straight lines and corners, which is a bit refreshing after all the rounded edges on other models. But if you check out the specs, you'll know why I think this phone will be a failure bigger than the Dell Streak and the HP TouchPad, possibly combined, if it ever launches as it is.
The phone is supposedly equipped with a single core first generation Qualcomm Snapdragon (the same one in the Nexus One, for that matter) and has 512 MB of RAM and 512 MB of ROM, both of which are very, very low nowadays. That alone should make you wary or turn you away from getting this phone right away, but if it's not enough, read on.
The operating system on the Philips W920 is Android 2.2 Froyo – yep, the good old Froyo, and if you're thinking it's just a prototype, then why did they not just use Android Gingerbread, which is freely available and much easier to get up and running on any platform. If they do release it and then not update the OS to a newer version, plus add a locked boot loader, that would be the biggest spit in the customer's face ever and would get Philips off the market right away and forever.
The other specs are not all that impressive, either: the only decent thing this phone will have is the 4.3 inch, 800×480 LCD, which is already getting old (it's probably the cheapest they could find), and the rest of the hardware is also worthy of a mid to low end phone – there's a 5 megapixels camera on the back, surprisingly with an LED flash, but obviously no HD video recording, a Wifi b/g adapter, Bluetooth and a puny 1280 mAh battery inside the 117x66x10.5 mm housing.
All of that would cost you $625 – how's that sound? I may sound overly negative about this phone, but come on, I can't believe that someone would release these specs for that price – I'd rather get a Huawei or a first generation Droid if I wanted those specs. Anyway, I think it will either never see the light of stores or it will be updated with much better specs before it gets released, if ever.