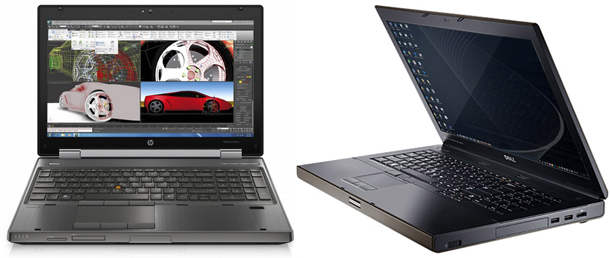 The laptop market is pretty much overfilled with offers on all fronts – you can find anything from cheap Web surfing machines to powerful desktop replacements that weigh as much as your old tower (OK, maybe a little less :-).
One particularly interesting niche product is the mobile workstation – these machines are most often oriented at businesses and individuals that need a very powerful laptop (the most powerful there is) that is still portable enough to be taken anywhere with ease. While just a couple of years ago, the most powerful in this class were 17 inch units, which weren't all that portable, things have changed dramatically, and now you can find 15.6 inch laptops that can rival any 17 incher in performance without overheating or other similar drawbacks.
Two of the most popular lines of mobile workstations are Dell's Precision and HP's Elitebook, and both of them have had a new model added this year – the Precision M4600 and Elitebook 8560w. Aside from the Lenovo ThinkPad W520, which is frankly very ugly and has also gone down in build quality, these are the two laptops you should be looking at if you want ultimate performance in portable format.
The M4600 and 8560w are remarkably similar in what they offer hardware wise. Both of them can have a wide range of configurations, although the HP tends to be more expensive off the bat – but that's solvable with a rebate or a call to HP's business sales department (they can usually give you another 10-20% discount right away – an interesting thing to note).
Both of these laptops have a base configuration with a Core i5 dual core processor, AMD FirePro 5950M graphics card with 1 GB of video memory, 4 GB of RAM and a 500 GB HDD. The top configuration includes a quad core Core i7 2960XM (with the multipliers unlocked), NVidia's Quadro 2000M with 2 GB of memory, 32 GB of RAM and a 256 GB SSD + optional mSata drive if you want it (and you should get it). Of course, all the component options in between are also available.
The port selection is exactly the same: both laptops have 2xUSB 3.0, 2xUSB 2.0, 1xeSata/USB combo port, DisplayPort, HDMI out, VGA out, Ethernet, 2 audio jacks, Firewire, ExpressCard/54 slot and an SD card reader. The Elitebook 8560w is better at real time audio editing according to reviews, although the cooling system in the M4600 may be a bit better.
The difference is in the display and design. The display choices of the Elitebook 8560w are better – at the low end of the spectrum, you get a 1600×900 pixels LCD unit, which is pretty good, and you have the option of a Full HD panel or HP's unique DreamColor screen – basically a 1920×1080 IPS display, which looks simply amazing (the colors, viewing angles and black levels are the best there are on a laptop). Dell only offers a cheap 1366×768 display and a 1920×1080 unit, but they both have the option of a touch screen (which is pretty useful sometimes).
The design is obviously very different and I'll have to say that it's to each person's individual liking; however the Precision M4600 looks and feels slightly less bulky than the Elitebook 8560w, although their weight and thickness is pretty much the same. The Elitebook has an aluminum palm rest, though, which is very comfortable and will not wear out as fast as the plastic on the Precision.
Both of these laptops are a perfect choice for a powerful mobile workstation, and if you want to get the most affordable option, the M4600 is your best bet, but if you want the best display and a slightly better build quality, the 8560w is the winner.