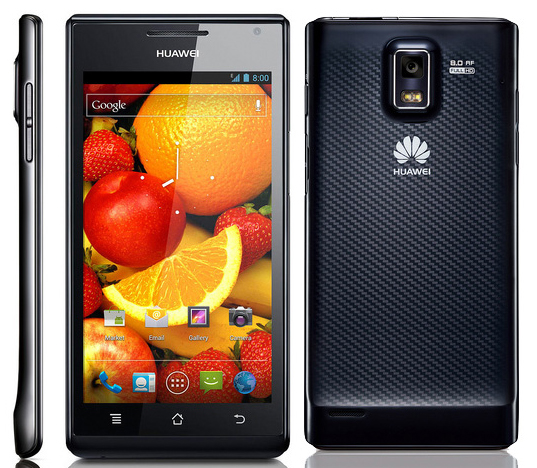 Of all the companies announcing and demonstrating their new smartphones at CES 2012, the one you'd least expect to produce a high end device that will also hold the "thinnest" title has to be Huawei. This Chinese company is very well known for producing a lot of different accessories and components for telecommunication equipment and computers, but their presence on the smartphone market is only held up by a few cheap and affordable handsets, which are pretty well made but are nothing special overall.
With the Ascend P1S, the company definitely showed everyone that they can and they will compete in higher end niches, with the new smartphone stealing the title of the thinnest phone from the Droid RAZR – the P1S is a whole 1.02mm thinner at 6.68mm! Moreover, the thickness is spread equally throughout the housing, and the only things that stand out is the camera and the bottom lip, both of which are raised by just 1mm. Despite the ultra-thinness, the phone still feels solid and will hold up well to everyday use – that's pretty good engineering on Huawei's part, and knowing the company, the price will probably be lower (if only by a bit) than the competition, as well.
The other specs are also at a high level – while this is not an all-new quad core smartphone (which no company has shown off yet, despite the promises), the Huawei Ascend P1S uses TI's most powerful OMAP chipset, the 4460, which has two processor cores running at 1.5 GHz each and the updated PowerVR SGX540 graphics adapter, which is still the most powerful in its class. Coupled with 1 GB of RAM, that should provide more than enough performance for any kind of tasks and apps.
The display on the P1S is a 4.3 inch Super AMOLED unit with a resolution of 960×540 pixels – this thing looks just as good as you'd imagine, with vivid colors, deep black levels and contrast, great outdoors visibility and perfect viewing angles. The whole front is covered by a big sheet of Gorilla glass to make it resistant to scratches and dents, so you probably won't even need a protection film for this phone.
The phone will come in three colors – glossy black, white and pink – which makes it a bit more unique for each buyer, and the Android interface is also customized with a few unique additions and features. The Android version running on the handset is 4.0, i.e. this thing will run Ice Cream Sandwich out of the box, unlike some other new phones.
The other hardware specs are also what you'd expect from a high end phone – there's a nice 8 megapixels camera on the back that can shoot 1080p video, a front-facing unit that can also shoot HD video, this time in 720p resolution (great for Skype HD video chats), 4 GB of internal storage space and a micro SD card slot that makes up for that, GPS, Wifi N, Bluetooth 3.0 and a penta band GSM radio, which makes it a world phone. The integrated battery is a full 1800 mAh, and Huawei promises that it will last up to 30% longer than similar units on other phones thanks to a few software optimizations they made.
The Ascend P1S certainly looks very impressive, and hopefully it will find its way to the western market before it gets outclassed by the upcoming quad core smartphones.
[retweet][stumble]