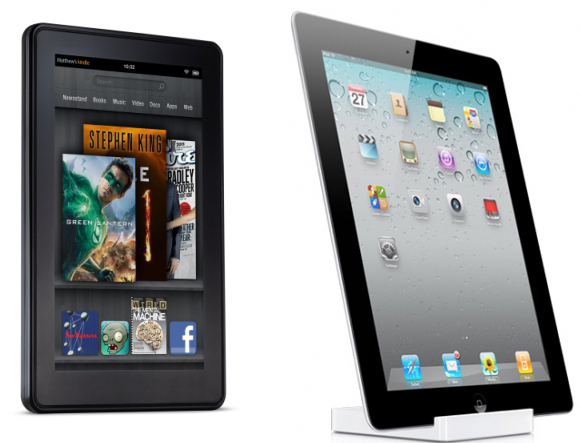 The tablet market has been really shaken up by the first iPad, and thanks to it we now have a new direction for slates – cheap, easy to use devices that can replace a whole computer for most people. Not only that, but tablets are perfect replacements for paper magazines and books, as well.
Amazon, Sony, Barnes and Noble and other companies tried to bank on that with specialized e-readers, which have monochromatic or grayscale displays using E-Ink technology, which looks almost like paper and is very readable, but despite the popularity of these devices, nothing beats a full-fledged tablet that can do more than display eBooks and text articles.
Barnes and Noble's Nook Color actually had the right idea – combine a proprietary eReader with a tablet and sell it for a cheap price, and indeed it was pretty popular with people, at least until more affordable and powerful tablets running an unrestricted Android OS came out.
Amazon has also decided to get into the tablet game, and their Kindle Fire was expected to trump the Nook Color and many tablets out there, but does it? The Kindle Fire is more of a powerful eReader with a color display – despite running Android, it's too restricted to do a lot of things that you'd expect from a tablet. It is meant as an easy to use tablet/eReader combo that most people can afford, so it is especially interesting to compare it with the iPad 2 – the most popular "real" tablet out there. If you had a choice, which one would you buy?
The exterior and the display
Both tablets look pretty nice on the outside, however the iPad 2 has a more refined look, thanks to its aluminum housing and thinner profile. The Kindle Fire looks a lot like the Blackberry Playbook, with the same clean design and almost straight corners. The device is very sturdy, with no flex anywhere, and with the display being covered by a sheet of Gorilla glass and the back having a soft touch plastic, it's pretty scratch resistant, as well.
The iPad is practically the best tablet when it comes to build quality, thanks to the unibody design, and of course, the display is also covered by a big sheet of Corning's Gorilla glass. The iPad 2 may be larger, but it feels just as good in your hand thanks to the 8.8mm thickness (the Kindle Fire is 11.4mm) and 600 grams weight, which is more than the Kindle Fire's 413 grams, but not by that much.
The displays are actually comparable in quality, but obviously the bigger 9.7 inch screen with a 1024×768 pixels resolution on the iPad 2 means that it will be easier to read magazines, books and websites on it. It's also better for any kind of multimedia and entertainment, as well. The 7 inch display on the Kindle Fire makes it more portable, though. The DPI is also a bit higher on the Kindle Fire, with its 1024×600 pixels resolution, but it's not that noticeable.
Internal hardware
The Kindle Fire is probably the most affordable dual core tablet on the market – too bad it's not a real tablet. The TI OMAP 4 that powers it runs at 1 GHz per core, and is aided by 512 MB of RAM, which may be a bit on the low side for a tablet, but more than enough for a glorified eReader. The built in storage disappoints, though – there's only 8 GB of it, and that's not enough for most people. That wouldn't be a problem if the device had a micro SD card slot, but unfortunately, it doesn't. You also won't find most of the features that a tablet will offer, including a camera, GPS, microphone, HDMI out and other useful things. I suppose that's what you give up for the low price, but it may be too much.
The iPad 2 has pretty much everything a normal tablet must have, even though it took it quite some time to get here (why the first iPad did not have a camera, I'll never know). Even the cheapest model has a GPS, two cameras, 16 GB of storage space, HDMI out capabilities and more. The performance should be equal to that of the Kindle Fire, thanks to a dual core A5 processor running things inside the device, helped by 512 MB of RAM. However, thanks to iOS, Apple's tablet feels much snappier than Amazon's.
The software
And here's where the Kindle Fire loses big time. While the iPad 2 has iOS and access to over 500,000 apps on the iTunes marketplace, the Kindle Fire is very limited, despite using Android 2.3 Gingerbread as its operating system. Amazon chose not to allow side loading of apps from external sources or the Android market, so you're limited to the Amazon market. The extensive customizations of the interface make the tablet slower than a normal Android device would be, and the standard browser, called Silk, which uses Amazon's cloud server for faster page load times and other stuff, is also pretty limited, slow and overall worse than even Android's own Chrome. Maybe that will change in future updates, but that's how it is for now.
The Kindle Fire is a great eReader, however if you want a tablet that offers an equal user experience, but also lets you do all the things you would do on a netbook or laptop, for example, the iPad 2 is a better choice. Sure, the $199 price of the Kindle Fire is very alluring, but the features you have to give up are just too many and too important. The cheapest iPad 2 ($499) is a better choice and thanks to Amazon's own Kindle app for iOS, you can read all the books on their market without problems. Plus, the iPad will probably stay as your main tablet for years to come – it's almost perfect in that regard.