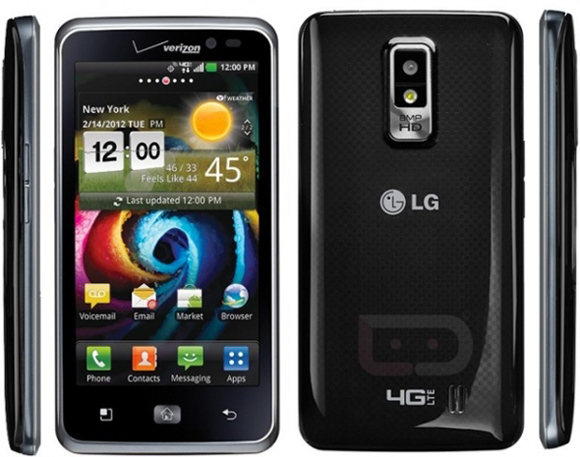 There were a lot of rumors about the upcoming LG Spectrum, aka the Revolution 2, and LG finally made it official at CES 2012 – it turned out that the smartphone is better than what everyone expected, which is pretty rare nowadays, it seems.
The Spectrum has a pretty decent exterior design, although it is nothing special and won't attract as much attention as, say, the Droid RAZR. It's a simple slab smartphone with a nice slim profile, big screen and three touch navigation buttons on the front and a glossy back cover with a carbon pattern finish.
But the best part is on the inside: the LG Spectrum may not be a super powered quad core monster (then again, no company actually has such a phone yet), but its 1.5 GHz dual core Snapdragon sure is nothing to laugh at. With 1 GB of RAM and the Adreno 220 graphics adapter, this thing can pull through pretty much everything you can throw at it. The internal storage space is pretty limited at 4 GB, and it's mostly meant for apps and stuff that needs to load fast, with any extra data and files being loaded onto the external micro SD card (a 16 GB card comes with the handset, so you don't even have to spend extra money to get started).
The display is another attractive feature of the LG Spectrum – it is a 4.5 inch IPS LCD unit with a 1280×720 pixels resolution and a mind boggling 326 DPI pixel density, which matches that on the iPhone 4's Retina Display (maybe LG should give it a name, too, like the "Eagle Eye" display?). The picture is clear and sharp, and obviously you can't even see the individual pixels. What you can see, though, is a beautiful rendering of pretty much any Web page in full screen without having to zoom in.
The other hardware specs are on a high level, as well. There's the 4G LTE radio for the new speedy networks, an 8 megapixels camera on the back with LED flash and support for 1080p video recording, a 1.3 megapixels front facing camera for video chat, the usual Wifi N and Bluetooth combo, GPS, a micro USB port with HDMI out capabilities (too bad it's not two separate ports, though), and the standard selection of sensors – accelerometer, magnetometer, gyroscope, light and proximity sensors. The battery is a pretty big 1830 mAh unit, which should last 7-8 hours of continuous use, but not much more, sadly – the big display, fast processor and LTE radio do take their toll.
Software wise, there might be some disappointment, as the LG Spectrum will be shipping with Android 2.3.7 Gingerbread out of the box, but LG promises that an update to Ice Cream Sandwich is imminent and will come soon enough – there's no reason not to believe that, since LG's other phones already have an update lined up, as well.
For $200 with a 2 year contract, the LG Spectrum is a very decent choice – it can definitely last a couple of years without getting old, and it has all the features you might need on a smartphone to get the best experience possible.
image source: DroidLife
[retweet][stumble]